Al Gore "Green Solutions" Event in Boca Raton, an Intriguing Speech on Environmental Sustainability
Vice President Al Gore comes to South Florida on November 14th - Boca Raton, Mizner Park. Speaking the An Inconvenient Truth - 90 min lecture speech.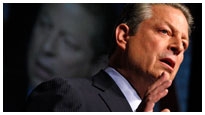 Boca Raton, FL, September 10, 2009 --(
PR.com
)-- Former Vice President Al Gore has confirmed a trip to South Florida in November to speak on the climate crisis and environmental sustainability in the City of Boca Raton. This "green solutions" event will be held at The Centre for the Arts at Mizner Park Amphitheater on Saturday, November 14th with approximately 3,000 in attendance.
The event will take place from 5:45pm to 7:15pm, followed by a brief Q/A.
Al Gore has been a leading conservationist championing environmental initiatives and legislation for decades. In 2007 the former Presidential candidate received the Nobel Peace Prize in Oslo, Norway for his documentary An Inconvenient Truth. Mr. Gore is recognized around the globe as one of the most influential voices on climate change. His new book, Our Choice, due out November 2009 will focus on outlining the achievable solutions to deal with the climate crisis.
"We are excited to have Former Vice President Gore here in Boca Raton to speak on environmental issues. South Florida has an active and growing green community of students, businesses, and leaders," says organizer Mark Kofod from B2BGLOBAL.
The Centre for the Arts at Mizner Park (CFA) in Boca Raton is a local organization dedicated to expanding the cultural resources in the heart of the community by creating cooperative programming opportunities in music, dance, theater, film, and fine arts in the Count de Hoernle Amphitheater at the Schmidt Family Centre for the Arts.
The event is open to the public and tickets will be available through www.Ticketmaster.com or
www.ticketweb.com
.
Tickets go on sale Thursday Sept 10th at 10am. For more information, please call 561-544-2505 or visit www.b2bglobal.com
###
Contact
B2BGLOBAL.COM
Mark Kofod
561.544.2505
www.b2bglobal.com

Contact