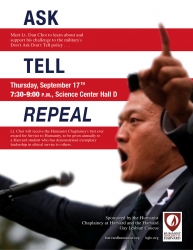 Cambridge, MA, September 18, 2009 --(
PR.com
)-- Harvard Humanists Honor Lieutenant Dan Choi for Commitment to Equal Rights
The Humanist Chaplaincy at Harvard and the Harvard Gay and Lesbian Caucus will honor Lieutenant Dan Choi and his commitment to equal rights for gays in the military on September 17.
On March 19, 2009, Lt. Dan Choi announced he was gay to MSNBC's Rachel Maddow. Overnight he became the courageous face of opposition to the U.S. Military's "Don't Ask, Don't Tell" policy.
An articulate, wise, and patriotic West Point graduate – not to mention an Arabic linguist and Iraq veteran – Choi was recommended for discharge from the United States Army after his appearance.
Choi hopes to repeal the Don't Ask, Don't Tell policy. Speaking publicly about his sexual orientation and demanding equal rights for gays in the Army, Choi continues to draw attention to discrimination against gays, demanding the rule be overturned.
Lt. Choi will receive the Humanist Chaplaincy's first ever award for Service to Humanity, to be given annually to a Harvard student who has demonstrated exemplary leadership in ethical service to others. After receiving the award, Lieutenant Choi will speak about truth, service, integrity, and his experience with the U.S. military's "Don't Ask, Don't Tell" policy.
The Humanist community at Harvard calls Choi a role model for all who value honesty and equality.
"Humanists, and all human beings ought to value the kind of courage, honesty and integrity Choi has displayed," said Greg Epstein, the Humanist Chaplain at Harvard. "He's a real 21st Century hero for a country badly in need of role models these days."
"The Harvard Gay and Lesbian Caucus is proud to stand with Lt. Choi against DADT and is pleased to welcome him to Harvard," said Rhonda Wittels, President of HGLC, the 5,000-member organization.
The event will be held in the Harvard Science Center Hall D from 7:30-9:00pm.
For more information on Choi's campaign, see:
http://www.huffingtonpost.com/2009/05/07/dan-choi-fired-gay-arabic_n_199592.html
http://www.advocate.com/issue_story_ektid95141.asp
http://abcnews.go.com/US/story?id=7569476&page=1
###