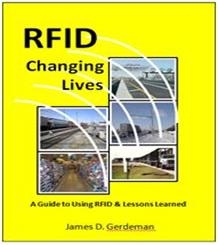 Coral Springs, FL, October 01, 2009 --(
PR.com
)-- James Gerdeman has used his hands on approach to the technology to provide the reader with samples and examples of how the industry has implemented RFID. The reader is offered both a narrative and pictorial view of this fascinating technology. His lessons learned which he calls "Gotcha's" alone is worth the cover price. It is really a story of cows to cars says James as he explains the use of initial prototypes for tracking cows in fields to now allowing automobiles to speed pass electronic toll facilities. Of course the railroads brought the system to the industrial reality and intermodal quickly followed. Truckers have used the technology to speed passed weigh stations all the while having their credentials and safety records checked. Gated communities, airports and private fleets are using the technology to improve operations. This brings green to a point that can make even the most skeptical crack a smile. The publication of RFID Changing Lives is in conjunction with Lulu, the world's fastest-growing provider of print-on-demand books.
James Gerdeman wrote RFID Changing Lives as a project to show the implementation and progress made since his first book Radio Frequency Identification Application 2000. At IBM he developed leading edge applications and worked with IBM Research for developing a paper thin tag. Fleet management and gated community systems were targets of a business he owned. He developed JBUS hands free retrieval for trucks. He made improvements in electronic toll systems which improved performance over vendor's own approach. Managed technicians across 24 states for unique weigh scale and credentialing system saving fuel and time, a first green application. Jim managed a three party maintenance program for a unique electronic toll system using RFID. www.JDGerdeman.com
About Author
James Gerdeman earned an Industrial Engineering degree from the University of Dayton. His book Jimmy, about boys growing up in the 50's, has entertained many. Smoke Signals You Too Can Quit shows his diversity. His first book, Radio Frequency Identification Application 2000, was published by Research Triangle Associates. Jim has always championed technology for society. Recently Jim has built Photo Radar and Enforcement systems for municipalities. He is expert in RFID in the electronic toll systems. More information at www.JDGerdeman.com.
About Lulu
Founded in 2002, Lulu is the world's fastest-growing print-on-demand marketplace for digital do-it-yourselfers. Please see www.lulu.com for more information.
###