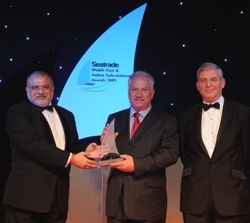 Framingham, MA, October 15, 2009 --(
PR.com
)-- ahoy-ahoy.net , the first seafarer's social network optimized for the maritime broadband connection, has been named the winner of the 2009 Seatrade Middle East & Indian Subcontinent Award in the Technical Innovation category. The awards presentation was held in Dubai. The award was presented by Captain Jitendra Misra, Chairman at the Institute of Chartered Ship Brokers to Mr. Asad Salameh, President of World-Link Communications.
Originality, imagination and practicality are the foundations on which ahoy-ahoy is built. Its chat room allows the crew to communicate, in real time, with family as well as the home office. Also, companies can use its news feeds to send their latest information, training materials and newsletters to the crew.
Ahoy-ahoy is a secure, private and accessible network for the crew to communicate. It has been conceived as a sea leave without the sea pass, where the seafarer can have his family reunion and play chess. Because of its very nature, ahoy-ahoy enhances the seafarers' multicultural experience allowing them to keep in touch with friends and peers around the world. And, the crew can finally read news from their own country, in their own language, in real time and for free.
"World-Link Communications is committed to providing shipping companies and seafarers with the very latest in maritime broadband and we are very pleased to bring ahoy-ahoy to the community. This award is testifying our ability to innovate leveraging from our 20 years experience in the maritime industry. Ahoy-ahoy is going to be a central and valuable part of the seafarers' daily lives", said Mr. Salameh.
World-Link Communications is proud and delighted to be recognized by the Seatrade Distinguished Judging Panel for their work in bringing innovative, better and more affordable communications solutions to the maritime community.
To join ahoy-ahoy, the Seafarer World, go to
ahoy-ahoy.net
.
About World-Link Communications, Inc.
World-Link Communications is an award-winning provider of customizable, maritime satellite communications solutions. The Company, founded in 1989, is based in Framingham, Massachusetts and has offices around the world.
ISO9001 Certified and serving more than 800 hundred ships, the organization delivers maritime satellite services combining proprietary acceleration, compression and network optimization technologies that have won the trust of ship owners and managers worldwide.
World-Link Communications is committed to improving maritime satellite communications services while meeting their customers' need for faster, more reliable and cost effective services.
###