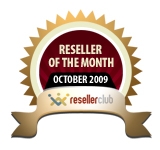 Melbourne, FL, October 17, 2009 --(
PR.com
)-- Gossimer, the fastest growing domain name registration and
web servicing company
, got another reason to smile through October. The company has been chosen as the reseller of the month for October by ResellerClub. This honor has provided the stamp of approval to the amazing web hosting and domain name services that Gossimer provides to its customers.
Marvin Dreyer, CEO of Gossimer has also been interviewed by the ResellerClub on this occasion, where Marvin talked profusely about the journey of Gossimer so far. In his extended interview, Marvin also shed light on the history and making of the company. Marvin's devotion to superior customer service, and never-failing webhosting services was quite evident in his talks.
During the
ResellerClub Interview
, he emphasized on the importance of customer support and quality web hosting services in making any web-based business a success. In the interview Marvin said, "There are so many issues to consider when selecting a Web Host or Domain Registrar, and many times, new Customers don't even know what they need until their new website crashes; taking with it hours of their hard-work and time."
He further added, "We treat every Customer as we would want our own mother's to be treated; with care, kindness and a true understanding of what their needs really are."
The month of October has brought a bag-full of changes in Gossimer that includes the change in location from New Jersey to Melbourne, increased customer base, improved customer support, and Gossimer's cheapest off-the-shelf .com domain promotion. For the entire month of October, the .com (dot com extension) domain will be available at $7.99, which $2 less than the price offered by the big daddy's of the industry.
Gossimer has also consolidated its product offerings recently making the product suitable for the needs of new entrants as well as professional domain investors and webmasters. Of late, Gossimer started to offer the
Ultimate Web Hosting plan
, which gives unlimited email, unlimited data transfer, unlimited disk space, unlimited database space, and unlimited MySQL for just $5 a month. This price is just a fraction of what other web hosting companies offers.
Seeing the assortment of products, quality of its customer support, and the company's dedication to make the web a safe and secure place, it is no wonder that Gossimer has been chosen as the Reseller of the month for October by ResellerClub.
About Gossimer, LLC
Gossimer is a full-feature, fastest growing domain name registration and webhosting company. Since 2001, Gossimer is providing web hosting, email hosting, and domain registration services from Florida. The company is well known for its exceptionally responsive customer support, knowledgeable technical support, server uptime, and attractive web hosting packages.
For more information, please visit: http://www.gossimer.com
###