Glimm Screens B.V. Launches New, Transparent Holographic Film for Front Projection
Glimm Screens B.V, manufacturer of front and rear projection films as well as front and rear projection screens launches new, transparent holographic film for front projection.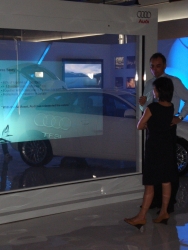 Groningen, Netherlands, October 28, 2009 --(
PR.com
)-- Glimm Screens B.V is proud to announce the new, revolutionary, adhesive Transparent Holographic Projection Film.
The Holographic Film can be easily applied on windows, acrylic and glass panels. When projection is switched on, the holographic film produces identical image on both sides with high colour reproduction. When the projection is switched off, however, this first transparent holographic projection film becomes invisible. That is a truly unique feature in the world of projections and presentations.
Not only provides Glimm Screens the holographic film to be applied on the windows or other glass panels, but also the 100% transparent glass screen with the holographic film laminated directly onto glass is available, too. Professionally manufactured HoloGlimm is the worlds first 100% transparent glass projection screen.
Another phenomenal aspect of this technology is that by keeping the background of the screen dark, having no ambient light at the back of the screen and with properly created content it is possible to create a 3D effect using this transparent projection screen. This brings the presentation and overall visual communication into a new level.
Those unique specifications of transparent holographic film in combination with glass panels find applications in points of information, shop windows, designer/architect offices and plenty of other.
The holographic film can serve as a solution in almost any indoor environment, with any size and shape.
Glimm Screens provides the holographic film in both standard sizes, between 40'' and 100'', and also on rolls: 1.5m, 1.6m and 2m wide. The length of the holographic film roll can go from 5m and 10m to 20m and even 50m long. The maximum size for the HoloGlimm transparent glass projection screen goes up to 3m x 4m and it is possibly the largest transparent projection screen in the world.
To learn more about this innovative technology visit www.glimmscreensinternational.com , email info@glimm.nl or call +31 50 58 93 112.
###
Contact
Glimm Screens B.V.
Piotr Finkielsztajn
+315 03600810
www.glimmscreensinternational.com
fax: +31505893113
email: info@glimm.nl

Contact