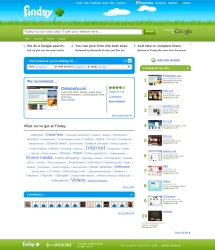 San Francisco, CA, October 29, 2009 --(
PR.com
)-- October 2009 is the month chosen for the worldwide launch of Finday, an innovative social web directory and search engine that began with a truly revolutionary proposal: to democratize searches on the Internet. As a result, Finday isn't just an advanced search engine based on Google's technology, but also the first global directory of websites commented and evaluated on by users, and the only website ranking system that isn´t based on statistics, but on human criteria.
Finday has been designed for its operation to be very simple and intuitive. The user begins the search for a word or phrase on the Internet as they would on any other search engine, Finday then uses the powerful Google engine to present the same results the user is used to getting. However, on the same listing the user will also be able to see the scores which have been given by other users to the various sites shown according to parameters such as quality, confidence level, activity, price or design as well as opinions and comments about each site. This way, you'll be directed to the best valued sites without having to waste time surfing the web and clicking on each result to find exactly what you are looking for.
In addition to counting on Google to provide more precise search results,
Finday
allows its users to browse through hundreds of categories to locate the sites they need at every moment. Therefore, Finday could be defined as the answer to the Internet user's eternal question: "What's the best site for ...?" In this sense, Finday's main objective is to bring to the field of search engines and web directories the collaborative spirit of 2.0 websites.
One of Finday's most attractive aspects is its possibility to do a "quick search." This feature allows users to obtain listings quickly and easily. You could look at the highest rated technology blogs, the cheapest electronics stores, or the most reliable travel websites to name a few examples, always according to the evaluations provided by users.
In addition to all of the above, Finday includes a large amount of important data concerning each site: who owns it, where it's located, what language it's available in, web traffic figures, or its popularity within the ranks of the largest Internet communities among others.
All in all, Finday stands as the most recent bet taken on by
Grupo Intercom
, a leader in Spain in the creation and development of Internet businesses and incubator of successful projects such as infojobs.net, softonic.com or emagister.com.
Finday (http://finday.com) is being launched worldwide simultaneously both in English and Spanish.
###