San Francisco Requests Bids for an Alternative to PG&E: Local Power-Assisted RFP Seeks New 51% Green Power Supply for Residents & Businesses, 360 MW of Local Green Power
A Major Local Power Inc. Milestone: Following Marin, SF Releases Long-Awaited Request For Proposals (RFP) to Solicit Bids from a New Power Service Supplier to Provide Residents and Businesses Dramatically Greener Power, Build 360 MW of Local Green Power Facilities Starting in 2010.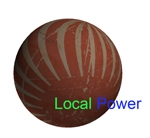 San Francisco, CA, November 09, 2009 --(
PR.com
)-- The San Francisco Public Utilities Commission (SFPUC) today released a Request for Proposals authorized by City leaders to implement the Community Choice Aggregation Program, known as CleanPowerSF. Co-drafted by the San Francisco Local Agency Formation Commission (LAFCo) with technical assistance of
Local Power, Inc.
following a decade of preparation, the RFP invites bids to provide a new electricity service to San Franciscans that consists of 51% renewable energy and demand technologies by 2017, and provides municipal financing for development of at least 360 Megawatts of new solar photovoltaics, smart grid, local wind, cogeneration, energy efficiency technologies and other local green power.
The RFP, authorized by an October 27 city ordinance approved by the Board of Supervisors, puts out for contract a major metropolitan power service worth billions of dollars in multi-year revenues and hundreds of millions in City financing, seeking no less than a new retail electricity supplier alternative to Pacific Gas and Electric (PG&E) to serve local residents and businesses, and use voter-approved revenue bonds to finance construction of a major, in some ways unprecedented, new urban green power infrastructure to serve them: what Local Power Inc. calls "a new kind of power."
"With the unanimous support of the Board of Supervisors and the Mayor, the City's plan to provide clean renewable energy has reached a major milestone. This RFP positions the city to provide San Franciscans with a meaningful green energy alternative to PG&E's misdirected reliance on fossil fuels," said Supervisor Ross Mirkarimi in the City's November 6 City Press Release, who serves as LAFCo Chair, and sponsor of the CCA RFP legislation.
The RFP makes available a voter-approved revenue bond authority also developed by Local Power Inc. to finance construction of new renewable energy facilities, seeking to build a 360 MW portfolio of local solar photovoltaics, wind power, smart grid, and other technologies to serve an urban community with 650MW of peak demand. As proposed, San Francisco's RFP will build the largest green power public works project in the United States, and present one of the largest green power projects in the world.
The CleanPowerSF RFP was issued the same day that the Marin Energy Authority, immediately to the North, voted unanimously to approve a five-year draft contract, according to Contra Costa Times. Shell Energy North America, a subsidiary of Royal Dutch Shell, is the lead bidder for the contract, but the authority still has the option of going with one of two other companies: Baltimore-based Constellation Energy Commodities Group or Houston-based Macquarie-Cook Power.
MEA is seeking to provide wholesale power to to local residents and businesses and provide 25% renewable energy in the first year at or below PG&E rates (PG&E is net yet 12% renewable according to the California Public Utilities Commission's Q3 2009 RPS Report). The Marin Energy Authority indicates on its website that it will hold a public hearing on December 1 for presentations by Local Power and other RFP respondents to develop local green power resources in Marin and surrounding areas.
The long-awaited push forward by San Francisco and Marin follows news that PG&E will fund a campaign to seek a state constitutional amendment on the June 2010 ballot, which amendment would place a 2/3 voter approval requirement on any "Community Choice Aggregation" efforts by California communities, which currently have authority to implement through approval of laws by local majority vote of a city council and/or mayors. Defending the authority's public process, board member Shawn Marshall, who serves on the Mill Valley City Council, was quoted in Contra Costa Times asking, "Does PG&E negotiate its contracts in public and post them on a public Web site?"
See Fast Company Feature Story on PG&E and Local Power Inc.
"We can establish the strongest possible project to lead the way for the rest of the state, the country, and the planet, in reversing the climate crisis," said Eric Brooks of San Francisco-based OUR CITY, who has represented CCA advocates at city hearings in recent years. "Once a successful bid is accepted for this project, it will become the biggest municipal clean energy network in the world and build enough solar, wind and efficiency projects to power San Francisco on 51% clean local and regional renewable electricity within the next decade."
The RFP invites potential respondents, including large energy trading firms and renewable energy project developers, to submit proposals that are based on the City's renewable energy goals.
The RFP issuance is a major milestone in Local Power's fifteen-year effort to bring a "revolution in power" to America since its CEO, Paul Fenn, drafted the first CCA law in 1994. Community Choice Aggregation, a state law drafted by Local Power in 2001 and passed in 2002 (AB117, Migden), allows California cities and counties to combine their citizens' purchasing power to buy electricity, reducing consumer costs and enhancing local control and consumer protections. In 2007, San Francisco adopted the company's energy blueprint by one key ordinance - the "Community Choice Program Design, Draft Implementation Plan and H Bond Action Plan" (Ordinance 147-07, Mirkarimi) - following voter approval of the Proposition H Bond Authority (Charter Section 9.107.8, Ammiano) in 2001 and a "CCA Ordinance" defining and setting up the program in 2004 (Ordinance 86-04, Ammiano), all of which were drafted by Local Power Inc., a San Francisco-based company with fifteen years of experience helping local governments meet the challenges of climate change and the energy crisis.
###
Local Power Inc. is a California C Corp based in San Francisco with field offices in Massachusetts and Washington, DC.. This press release is the property of Local Power Inc., and represents only Local Power's views and interests, and does not seek to represent the views of the City of San Francisco or its Commissions, which have websites on this City program at sfwater.org (SFPUC) and sfgov.org (SFLAFCo).
Contact
Local Power Inc.
Paul Fenn
(510) 451-1727x2
localpower.com
Fenn Blog: localpowerrevolution.blogspot.com
PG&E Initiative Info: powergrab.info

Contact
Multimedia
San Francisco RFP document - The released RFP is attached as a PDF file. This and other RFP supplement documents, can be found on the SFPUC's web sit at: http://sfwater.org/custom/bid/planlist.cfm/bidtype/2/MC_ID/15/MSC_ID/147 under the heading "CS-978R - Electric Supply Services..."
Fast Company Article in PDF format