Online Pastoral Counseling Practice of Dr. Reece Manley to be Recognized at Ceremony by Lambda Pride
Advocate USA, LLC, owner of Texas Research and Investment and The Online Pastoral Counseling Practice of Reece Manley cites Humanatarian Award from Lambda Pride.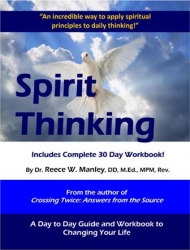 San Francisco, CA, December 23, 2009 --(
PR.com
)-- Dr. Reece W. Manley, DD, M.Ed., MPM's online pastoral counseling practice has been awarded the Golden Halo in Humanities from Lambda Pride Charities of San Francisco, California. Lambda Pride is a network of charities dedicated to the promotion of inclusiveness and a celebration of diversity through kind acts. "It is my pleasure to announce the award recipient in Humanities for the Golden Halo level is Spirit Thinking Counseling as practiced by Dr. Reece W. Manley, DD, M.Ed., MPM," began the announcement from Lambda Pride's Roxie Winns.
"I am humbled and warmed to receive this award and I accept it on behalf of my wonderful clients who are the true heart and soul of my practice," said Dr. Manley, who practices from
www.onlinepastoralcounseling.info
and from Spirit Thinking, the hub of Advocate USA Publishing. Dr. Manley is the author of Crossing Twice: Answers from the Source and Spirit Thinking: Your 30 Day Guide to Enlightenment, a professional pastoral counselor and a noted spirituality expert. The Golden Halo award joins a hosts of other nods to Dr. Manley's work and passion and presenting God's love as an inclusive, powerful gift for all of mankind.
The Golden Halo in Humanities has been awarded in the past to groups ranging from Feed the Children to Father Kyle Ryan's Food Pantry. This is the first time for the Golden Halo to be awarded to an online pastoral counseling agency. The award will be given in a ceremony to be held December 17, 2009, in San Francisco. Accepting on behalf of Dr. Manley will be Roxie Winns.
"I wish I could be there to accept in person," says Dr. Manley, "However, I am covered over finishing Spiritual Recovery: Seven Steps to Freedom and the framing of my fourth book, Needles in Haystacks: The Gift of Discernment. And, of course, providing counseling services to my clients."
Reece Manley,provides online pastoral counseling and Christian self-help guidance at www.onlinepastoralcounseling.info His award selling books can be found at www.SpiritThinking.net, Amazon, and other retailers. He is currently offering a special on his debut work Crossing Twice which is available
online
or by calling 1-800-936-0812. Reece may be reached at reece@manely.net.
###
Contact
Advocate USA Publishing
Rick Setter
800-936-0812
www.advocateusa.net
Author direct at 214-206-0607

Contact