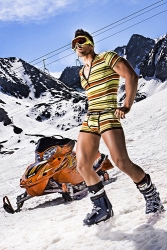 Saalbach, Austria, January 21, 2010 --(
PR.com
)-- '"Plans and preparations for EuroSki Pride 2010 continue to go from strength to strength,"' says Event Director Steve Morris. "The whole team continues to be amazed at the reach of this growing annual event with bookings from as far as South America, the United States and across the whole of the UK and Europe."
"Euroski Pride are proud to be working directly in association with the Saalbach and Austrian Tourist Board on the 2010 Pride Week," Steve says that they are also extremely proud to be associated with C.W.A.C – Children With A.I.D.S Charity. "Although the charity have many high profile patrons including George Michael and Simon Le-Bon they are always in need of additional funding and with every booking we will be supporting activities and projects to enable children with HIV and AIDS to do, see and experience quality in their lives."
The event organisers are working on the final plans to host a 'Main Stage' day with live performances, dance sessions and Charity Presentation. Amongst the acts, artists, DJ's and performers already confirmed include Back Eyed Peas' Boom Boom Pow singer and X-Factor Star 'Rowetta', Boy George - experience live who will be performing a special 'An Audience With' evening. They have DJ Phil Romano (Italy) - (Rapido Holland / Brussels / Tel Aviv / Rome Italy / Amsterdam). Joining Phil is DJ Rick Parker resident and favourite on Canal Street Manchester along with other top European DJ's.
Steve says: "We're planning a number of pre-event parties over the coming months in the UK and across Europe – expect to see lots of sexy alpine skiers during these big events with a few more surprises with our partner super clubs.''
EuroSki Pride 2010 runs from 20th – 27th March 2010. For more information please visit the Official website
www.euroskipride.com
###