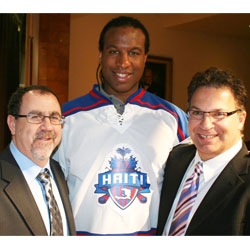 Montreal, Canada, February 05, 2010 --(
PR.com
)-- For National Hockey League veteran Georges Laraque the earthquake that devastated Haiti on January 12 is a personal matter. From Haitian descent, with family members still unaccounted for, Laraque is committed to help strengthen Haiti's ability to provide the much needed medical care to the earthquake's survivors and suffering communities. IceJerseys.com has joined forces with Laraque to offer a jersey and apparel line with all profits going to Laraque's Hockey For Haiti project.
On Tuesday, February 2nd, 2010, Georges Laraque visited the English Montreal School Board's LaurenHill Academy Senior Campus in St. Laurent to accept a cheque for $6,506 for his World Vision project to build a new hospital in Haiti. At this time, IceJerseys.com, a leading online retailer of hockey apparel, unveiled their official Hockey For Haiti jersey and presented it to Laraque who wore it throughout the visit and ensuing press conference. Gary Schwartz and Anthony Wolfe of IceJerseys.com also introduced a complete line of Hockey For Haiti apparel, including t-shirts and hoodies, with all profits being designated to The Hockey For Haiti Project. The project teams up Laraque, the NHLPA Goals & Dreams fund and World Vision Canada to help strengthen Haiti's ability to provide critical medical and healthcare for the earthquake's survivors and affected communities.
"We are confident that not only hockey fans, but anyone who wishes to show their support for Haiti will be proud to wear the Hockey For Haiti merchandise. We have introduced a selection of products that offer great value for any budget, which we hope will maximize the funds that we will be able to donate to George's project," said Anthony Wolfe of IceJerseys.com.
All of the merchandise is available for purchase exclusively at IceJerseys.com by going to http://www.IceJerseys.com/haiti.
For more details about Hockey for Haiti, go to http://www.worldvision.ca/hockey or http://www.georgeslaraque.com
For more information about IceJerseys.com and to order Hockey for Haiti apparel, go to http://www.IceJerseys.com.
###
IceJerseys.com is the leading hockey fan shop offering a huge selection of NHL, vintage & international jerseys, and hockey apparel. IceJerseys is also renowned for their authentic pro-style jersey customization.