Source-Omega Files for Patent Protections in the US for Algae Oil "Metabolic Ratio" and Uses for Serving Diabetes
Source-Omega company founder Scott Doughman, Ph.D., announced this week filing of their first non-provisional US patent application titled "Product and Use of Omega-3s Matching Human Tissue Ratios for Treatment of Inflammatory and Other Conditions."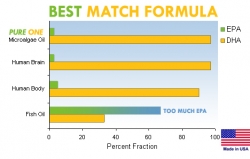 Chapel Hill, NC, March 26, 2010 --(
PR.com
)--
Source-Omega
is engaged in international partnerships and discovery opportunities. The company discloses exclusive product DHA/EPA ratios and embodiments with high-potential for fast-track clinical uses.
The company references studies that provide reasons why algae oil has a ratio of omega-3s that could be better for improving pre-diabetes and diabetes health by not one, but two, separate anti-inflammatory pathways. One is about the benefits of treating with DHA-rich algae oil for improving insulin function. The other indicates a high DHA ratio is an advantage for treating postprandial triglycerides by mechanisms not yet known.
Treatment of a person is disclosed to be by using accretion therapy or Omega-3 DHA Therapy™ (patent pending) using algae oil omega-3s, not fish oil. Source-Omega developed their methods over several years.
A high DHA to EPA ratio appears to better match certain tissues and cell membrane levels. "Algae oil may provide an improved treatment option" says Dr. Scott Doughman, Source-Omega President and Chief Scientist, Ph.D. Biochemist and Lipidologist. He reports "The stage is set for new value added product platforms. Source-Omega is a global product development company in algae oil with a branded product picking up demand in international markets."
The company's product was the first in-country algae oil supplement in Sweden, also with a Swedish language label. Dr Doughman says their marketing and ratio differentiation in the US and abroad gives added support to their Omega-3 DHA Therapy™, now under US application number 12/727,006 with the US Trademark and Patent Office, submitted March 18th, 2010.
"Single capsule specifications and dose ratios are keys to success in our manufacturing model. Research and development efforts are focused on standardizing protocols." says Dr. Doughman, a former NIH fellow who studied the benefits of omega-3s in metabolic diseases and cancer.
Dr. Pernilla Karlsson, Ph.D., Nutritionist and Toxicologist, a collaborating partner in Europe, says "Natural products are increasingly sought after these days. I believe Source-Omega's standards are impeccable and their customer service attitude is fresh and helpful. Our partnership has been extremely successful."
DHA/EPA algae oil ratio's used by other companies in the US and the EU do not overlap with Source-Omega's positions. The Source-Omega product pipeline looks strong. The company claims itself the first champion of algae EPA marketing in the USA. Algae oil products in the US did not disclose EPA until first described in 2008 with the product release of Pure One™ two years ago.
Intellectual property, innovations and technical advances the company has contributed in recent years have yielded positive growth, expert leadership, branding value and premium product positioning for international markets.
About Source-Omega, LLC, Chapel Hill North Carolina, USA: Source-Omega is located near the Research Triangle Park, was founded in 2007, for specializing in the manufacturing, branding, and globalization of algae oil nutritional products as an exclusive distributor of the brand name Pure One™, The Next Generation Plant Based Omega-3™ for their Omega-3 DHA Therapy™, for clinics offering triglyceride lowering plasma lipids management programs and for pregnancy, nursing and family care. Dr. Scott Doughman, Ph.D. Phone: +19193605275, Web: www.source-omega.com.
###
Contact
Source-Omega, LLC
Gene Wolf
919-360-5275
www.source-omega.com
52 Norwood Rd
Chapel Hill, NC 27516
USA

Contact