WorldNav Truck GPS Now Offers Mexico Maps
Truck drivers are being mandated to follow routes that are suitable for their vehicles. Commercial drivers are now able to cross the U.S. border to Canada and to Mexico with added confidence that they are following truck friendly routes by using the newly updated WorldNav Truck GPS.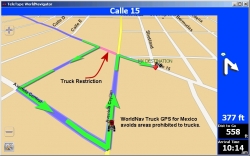 Boston, MA, April 08, 2010 --(
PR.com
)-- TeleType has released an update to its WorldNav Truck GPS software that now includes Mexico coverage and updated maps for the US and Canada. Following it's mission of "Know Before You Go," TeleType is offering an updated version of their WorldNav software for commercial drivers enabling commercial drivers in the U.S., Canada, and Mexico to follow truck friendly routes when using the WorldNav Truck GPS. The Mexico truck maps are included free of charge in the Version 9 release of the WorldNav software.
WorldNav commercial truck routing takes into account low bridges, commercially restricted areas, and hazardous material transport limitations and offers flexible routing options. Also included is an extensive database of over 12 million points of interest, including truck stops, weigh stations, restaurants, and hotels.
New in Version 9
* Mexico Maps allowing cross border travel
* Updated U.S. and Canada maps
* On-Screen compass
* Speed Limit warning
* Upcoming Weigh Station alert
* Vehicle width specification
* Improved Multiple Point Routing (via points)
* Search by Zip Code
* Flexible address search
* HazMat Class descriptive labels
* Export to Google Earth for Free display of routes
* Updated Windows software
For further product information contact TeleType Co. at 1.617.542.6220 or toll-free at 1.800.717.4478. Email contact @ teletype.com
About TeleType
Established in 1981, TeleType has emerged to become a leader in the field of Global Positioning Systems and was the first company to offer a portable GPS solution for commercial truck drivers. TeleType specializes in software systems integration and innovative products for a variety of industries. Products range from the user-friendly GPS navigation systems to advanced developer tools such as Software Developer Kits (SDK). This latest program innovation is yet another example of the pioneering advancements that has—and will continue to— set TeleType apart in the field of GPS technologies.
###
Contact
TeleType Co.
Marleen Winer
617-542-6220 x120
www.teletype.com
1-800-717-4478

Contact