Teres McClen Takes Eco-Luxury to the Derby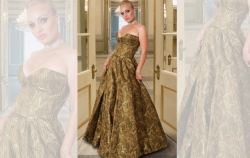 Los Angeles, CA, April 22, 2010 --(
PR.com
)-- The McClen Fashion Group—an innovative, luxury, fine-living brand heightening awareness through ethical practices, procedures, products and services with the lowest impact to the environment—will join noted celebrities, athletes and community leaders at Ferdinand's Ball to help kick off the 2010 Kentucky Derby.
The annual charity event benefits Old Friends, a rescue and rehabilitation farm, located in Georgetown, Ky., for retired racing and breeding horses. The Teres McClen Couture Brand donated an original couture evening gown for the affair. The hand-made, emerald green and gold gown is a Teres McClen Couture Signature 16 Gore Versatile ball gown that can be worn unlimited ways with hand-beaded bustier to off-the-shoulder cashmere sweater.
The event hits home for Teres McClen, as the company is a long-time provider of gentle shampoo for horses, as well as a supporter of the rescue of animals. Much more than a fashion line, Teres McClen is comprised of a world of fashion, lifestyle, balance and sustainability. "I am excited," said Teres McClen, the founder and chief designer of Teres McClen. "Too often, the real stars of the show—the horses—are forgotten after their glory days have passed. It's an honor to have the opportunity to support such a worthy cause, and we feel privileged to be a part of such an admirable event."
In addition to Ferdinand's Ball, Teres McClen proudly supports efforts to promote renewable energy, fair trade, community involvement, philanthropy, humane labor standards, 1% For the Planet, sustainable fibers/vendors, certified organic (OTA) vendors, less/no packaging, soy-based inks/vegetable dyes, Heal Africa, Kiva.org and other sustainability initiatives.
Ferdinand's Ball will be Thursday, April 29, from 6:30 PM to 12:00 AM at the Frazier Museum in Downtown Louisville, Ky. Ferdinand's Ball is a black-tie event, and will feature a VIP dinner, live entertainment and a silent auction.
About Teres McClen
Teres McClen, a California-based company, was eco-friendly from inception. Designs include eco-luxury couture, ready to wear and hand-made clothing for men and women, by appointment. Clients have included Mckenzie Westmore, Kimberly Elise, Michael Jordan, Jamie Foxx and Paramount Studios to name a few. The company has successfully operated several boutiques in the Los Angeles area and plans to open a new, larger boutique that will be completely sustainable—from the ground up—in 2011.
Contact: Sonia Ffrench-Pitts
pr@teresmcclen.com
###
Contact
McClen Group
Sonia Ffrench-Pitts
1.310.437.7156

Contact