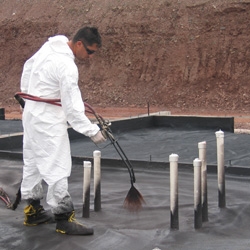 Hoffman Estates, IL, May 24, 2010 --(
PR.com
)-- CETCO, a wholly owned subsidiary of AMCOL International Corporation and manufacturer of the renowned Liquid Boot® spray-applied gas vapor barrier system, has announced the availability of an innovative multi-system Gas Vapor Mitigation program. With vapor intrusion becoming more of a significant environmental issue for regulators, industry leaders, and concerned residents nationwide, CETCO has developed, with the support of their world-class research and development team, a multi-system approach that provides four customized solutions for mitigating gas vapors generated from a wide variety of contaminants, ranging from low-level methane to higher-level chlorinated solvents, BTEX and other PAHs. No other gas vapor mitigation system available has been testing as extensively as those that CETCO provides. CETCO gas vapor mitigation systems are designed to effectively mitigate vapor intrusion that can adversely impact indoor air quality in structures built on Brownfield Redevelopment sites.
As part of this new program, CETCO is proud to introduce Liquid Boot® Plus, which incorporates the traditional spray-applied Liquid Boot® membrane bonded to a high-performance polyethylene-EVOH copolymer geomembrane called VI-20™. The EVOH technology provided in the VI-20™ geomembrane has been proven to have VOC diffusion coefficients 20 times lower than HDPE, which has been utilized as a gas vapor barrier. EVOH technology originated in the manufacturing of automotive fuel systems to control emissions of hydrocarbons, whose use was mandated by the US EPA and the CA Air Resources Board (CARB) to reduce VOC emissions. The superior protection provided by Liquid Boot® Plus with EVOH technology, is offered exclusively from CETCO.
All CETCO Gas Vapor Mitigation Systems are installed by a nationwide network of approved installers that have been trained and certified by CETCO. CETCO ensures quality installations by performing rigorous quality control procedures post-installation and by utilizing CETCO certified inspectors to verify system integrity. "We at CETCO believe that the effectiveness of a gas vapor mitigation system is only as good as the quality of its materials and its installations, two crucial factors we as CETCO take pride in perfecting," explained Chuck Hornaday, CETCO Remediation Technologies group manager.
For more information about CETCO Remediation Technologies and their multi-system Gas Vapor Mitigation program, please visit them at
www.cetco.com/RTG
or call 714-384-0111 or 800-527-9948 and ask to speak with one of their experienced technical managers.
###