Atelier Brazilian Hardwood Flooring Now Offered by Stewartfloor
Chicago-based Brazilian hardwood flooring dealer offers new coating line for Brazilian Teak / Cumaru and Brazilian Chestnut / Sucupira / Tiete Chestnut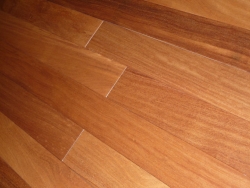 Chicago, IL, June 11, 2010 --(
PR.com
)-- Leading
Brazilian hardwood flooring
company stewartfloor® is pleased to announce a new collection of prefinished Brazilian hardwood: Atelier. Meaning a studio used by artists and designers, Atelier was selected as the name for this new hardwood flooring finish as the culmination of a dream based on years of experience and expertise in tropical hardwoods, natural surfaces, and materials.
A New Matte Finish for Hardwood Flooring
This exclusive stewartfloor® matte finish for hardwood flooring products accentuates the grain and natural character of these fine species. Atelier combines all the advantages of standard aluminum oxide finished flooring with the visual expression of an old world oil finish. It provides the visual interest of a slightly brushed texture due to its open pore finish. This finish allows the floor to radiate the vitality of an old world oil finish while showing less wear over time than traditional hardwood finishes.
Atelier combines all the advantages of a highly resistant, easy care aluminum oxide finish with the unmatched visual depth of a natural matte oil surface finish. Its floors offer virtually no light reflectivity, bringing out the natural material better than other finishes. This collection embodies stewartfloor®'s work over the last 13 years specializing in tropical wood from South America in pursuit to offer the perfect floor.
Homeowners and businesses choose Atelier floors to get a great looking exotic hardwood floor with very little maintenance. One stewartfloor® client said upon installation of his Atelier-finished
Cumaru
(Brazilian Teak) flooring, "Let me just say we love it! When you said it was clear/premium grade, how true, and the finish is perfect. Even the installers said they had no issues whatsoever."
Available with Any Brazilian Hardwood Species
The Atelier finish offers a classically modern look to any hardwood flooring. Stewartfloor® currently offers Atelier in Cumaru (Brazilian Teak) and
Sucupira
(Tiete Chestnut or Brazilian Chestnut). In the near future we will offer it on all available Brazilian hardwood species, including Amendoim, Kurupay (Patagonian Rosewood), Santos Mahogany, Tigerwood, Ipe (Brazilian Walnut), and Sirari (Tiete Rosewood). See a full selection of our South American hardwood species, including pictures of the tree, log, grain, and finished product at www.stewartfloor.com.
About stewartfloor®
Stewartfloor® is a Chicago-based Brazilian hardwood flooring company with warehouses in Baltimore, MD, Chicago, IL, Oakland, CA, and Greensboro, NC. It is a direct importer of the highest quality hardwood flooring from South America, with all products ethically and legally harvested in compliance with the Lacey Act. Stewartfloor® representatives personally visit plant locations in South America to select the highest grade lumber for processing. All its prefinished hardwood products carry a 35-year residential warranty. To learn more or to request an interview, please call 866.780.7839, ext. 5.
###
Contact
Stewartfloor
Sean Stewart
866-780-7839 ext. 5
www.stewartfloor.com

Contact