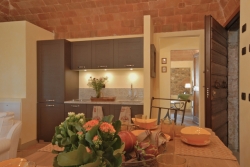 London, United Kingdom, June 25, 2010 --(
PR.com
)-- "The British buyers are back," says Luca Catalano, Director at Realitalia, specialists in renovation and new Italian Property in the heart of some of Italy's finest countryside, characterized by the Realitalia Management System.
"We have in recent weeks collected two reservations in Tuscany from two British ladies and a British gentleman is buying a holiday home at Dominio San Sebastiano in Liguria, where all of the more than 20 reservations except one were to Italians!
It is interesting to note the rapidity in which the British buyer has returned which we feel is due to their realisation of the incredible value our Italian Homes offer thanks to the combination of a strong Pound and our current promotions. The sales are concrete evidence of this turn around in the market".
Realitalia, member of UK Green Building Council, has a superb eco development of brand new holiday homes in a prime location at Dominio San Sebastiano and of the 25 reservations to date, 24 have been to Italians. This was due, to a degree, to the last 12 months when sterling to the euro was poor and the British were shocked by world events and were consolidating.
Now it would appear that with Realitalia offering exceptional incentives and the British realising that if you want to own a home in Italy, now really is the time to do so, there is a noticeable up-swing of buyers from the UK.
"Without a doubt we have seen a marked increase of interest from the British with the rise in the numbers requesting information, visiting our show homes and ultimately taking decisions on our Italian property," concluded Luca.
At Ville degli Olivi in Lajatico, Tuscany a British buyer could save almost 100,000 Euros.
Firstly there are Free bespoke Furniture Packages for those who act quickly and sign a preliminary contract before the 31st July 2010. One of these - for example in the case of Basilico, a three bedroom garden flat beautifully restored - is worth up to 37,000 euros.
The Realitalia Furniture Packages are a customized selection of fittings and furniture designed to make your Italian home fully enjoyable from day one. They are planned for your convenience and pleasure as owners can decide on the colours, style and the single items etc. to create their perfect Italian home.
The exchange rate is proving enormously beneficial for those with sterling. For example, if you consider Basilico, one of the beautifully restored, three bedroom homes with private garden and direct access to the Olive Orchard, compared to the same time lasts year, there is a saving now around 60,000 pounds Sterling without even taking into account the saving on the transaction costs. Basically you would need around 420,000 pounds Sterling instead of around 480,000 pounds Sterling to reach the 505,000 Euro purchase price.
In addition only, for one home left since it was for the first three reservations, at Ville degli Olivi Realitalia also has a Free external parking space included into the price.
At this breathtaking location in the village of the birthplace of Andrea Bocelli and his architect brother, Alberto, who has designed these magnificent homes for Realitalia, you will find peace and relaxation. Just a leisurely 30 minutes drive from Pisa airport along pretty country lanes, the homes are within a few minutes walk of the village centre.
Home owners enjoy tranquil views across the undulating unspoilt countryside that is Tuscany. The grounds and the established olive grove are for owners to enjoy, as is the welcoming newly created swimming pool. There are lots to explore and the coast is a short drive away, about 35 minutes driving. These are homes for the discerning; those who want to take in the ambience of the Italian lifestyle and appreciate the restful and gloriously relaxing way of life that is Italy.
Panoramic 1, 2 and 3 bedroom apartments restored from a handsome ancient village house.
Prices start from circa 185,000 pounds Sterling for one bedroom apartments, 240,000 pounds Sterling for two bedroom apartments and circa 420,000 pounds Sterling for three bedroom apartments (Euro financing available subject to bank approval).
New (3 bedroom) traditional houses with direct access to the Olive orchard. Prices start from 470,000 pounds Sterling (Euro financing available subject to bank approval).
###