U.S. Ambassador, Nicole Avant, Raises Autism Awareness in The Bahamas
Actress, bestselling author, and international autism activist Holly Robinson-Peete, and her husband former NFL quarterback, Rodney Peete, will be the special guests of United States Ambassador Nicole Avant at a reception on Monday August 16 to raise awareness about Autism.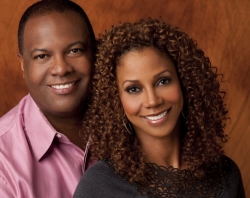 Nassau, Bahamas, The, August 14, 2010 --(
PR.com
)-- U.S. Embassy Nassau will partner with REACH (Resources and Education for Autism and Related Challenges), a Bahamian support group for families with Autistic children, to bring together Bahamian families with Autistic children and leading Bahamian autism experts and specialists to create an atmosphere for interaction, discussion, and exchange of ideas with the Holly and Rodney Robinson-Peete family. Guests will receive a signed copy of Mrs. Robinson-Peete's book, "My Brother Charlie," which she co-authored with her daughter Ryan. The book is an uplifting story based on the Robinson-Peete's personal experiences raising their autistic son JR.
"It is important to raise awareness about autism in The Bahamas and throughout the Caribbean," said U.S. Ambassador Nicole Avant. "Bahamian families must be reassured that they are not alone, but that they are among thousands of families in the United States and throughout the world dealing with a loved one who has autism," she said. Ambassador Avant believes increased scientific research will help families and communities to better understand and appreciate persons affected by autism.
On Sunday, August 15, Mrs. Robinson-Peete will be the special guest on Sunday Conversations, hosted by Patty Roker on Island FM 102.9 beginning at 2:00 p.m. Mrs. Robinson-Peete will discuss her personal experiences with autism and the impact of JR's diagnosis on the entire family. She will also share her message of hope for other families confronting the challenge of raising an Autistic child.
Background:
The U.S. National Institute of Health (NIH) defines autism as a developmental disorder that appears in the first 3 years of life and affects the brain's development of social and communication skills. The exact number of children with autism and the primary causes of the disorder remain unknown. A report released by the U.S. Centers for Disease Control and Prevention (CDC) suggests that autism and related disorders are more common than previously thought. It is unclear whether this is due to an increasing rate of the disorder or an increased ability to diagnose the illness. Autism affects boys 3 - 4 times more often than girls. Autism can affect any family regardless of the family's income, education, race, ethnicity or lifestyle.
Mrs. Robinson-Peete and her husband Rodney Peete are the parents of four children: fraternal twins, son Rodney, "JR" and daughter Ryan, both age 12; son Robinson, age 7; and son Roman, age 5. JR was diagnosed with autism at age 3. Mrs. Robinson-Peete and Rodney Peete founded the HollyRod Foundation in 1996 to give a voice and a hand to those striving for improved quality of life when theirs has been diminished due to disease or disorders. Through watching Holly's father, Matthew T. Robinson, struggle with Parkinson's disease the Robinson-Peetes were moved to form the foundation. After their son JR was diagnosed with autism, the foundation expanded its mission creating the hollyrod4kids initiative. HollyRod Foundation is currently developing plans to open their first "hollyrod4kids 'Miracle House'" in Los Angeles where families in the autism community can go for support, guidance, treatment and hope.
For additional information, please contact U.S. Embassy, Nassau's Public Affairs Specialist:
Katherine Stewart-Gibson
Telephone: (242) 322-4269; (242) 322-1181, ext. 4251
Cell: (242) 424-5745
E-mail: Gibsonk@state.gov
Embassy website: http://nassau.usembassy.gov
###
Contact
US Department of State
Erica Thibault
(242) 322-1181, ext. 4265
http://nassau.usembassy.gov
Katherine Stewart-Gibson
Telephone: (242) 322-4269;
(242) 322-1181, ext. 4251
Cell: (242) 424-5745
E-mail: Gibsonk@state.gov

Contact