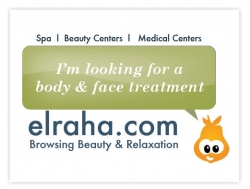 Beirut, Lebanon, September 01, 2010 --(
PR.com
)-- Recently, a new Lebanese directory specialized in gathering and listing
Spas
, Beauty Centers and Medical Centers around "Beirut" and all over Lebanon has been launched by Jreissati Enterprises S,A,L.
Jreissati Enterprises is a Lebanese Company that deals with the distribution and supply of Massage, Fitness, Sports and Relaxation Products to Spas, Beauty Centers, Salons, Institutes, Medical Centers and Physiotherapists.
From that point on, and from the Company's strive towards transparency in the Market while continuing with its social responsibility of inhibiting awareness and relaxation-oriented education in order to offer everyone the ability to live a healthier and easier life, the company started the elraha Directory to generally serve all health guided enthusiasts and specifically those who live in Lebanon and the middle east region.
When Browsing elraha.com, you can easily find what you're looking for in Spas and Centers, whether it is a simple Body Massage or a Specific Cosmetic Treatment or Plastic Surgery.
In addition, a person can enjoy browsing Elraha.com's wide and constantly updated directory of facial & body treatments, in order for him/her to know and understand what each treatment is all about so that a person can better decide which treatment is more suitable for him/her.
Ethically the Directory tends to refer, arrange, select and conveniently list its subscribers based on careful info gathering to ensure suitability in addition to listing spa and beauty salon cosmetic products and beauty/laser machines.
###