New App Helps Children with Autism via the iPhone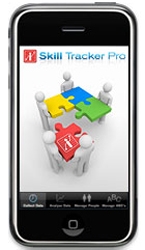 Mountaintop, PA, October 21, 2010 --(
PR.com
)-- The new Skill Tracker Pro application, designed to increase efficiency in the instruction of children with autism, was approved today by Apple®. Designed by parents of a child with autism, Skill Tracker Pro (STP) helps automate applied behavioral analysis instruction.
The new STP app frees a teacher, behavior analyst, therapist or researcher from several hours of administrative work each week, and brings a higher level of efficiency to assure the best possible outcome for children with autism.
It is available in the Apple iTunes store for the iPhone, iPod Touch and iPad, and will also be available for Android®, Palm® and BlackBerry® devices sometime next year.
For a video demo of the app, visit
www.youtube.com/watch#!v=SZ_bKZHiHfA
.
Skill Tracker Pro was created by the husband-and-wife team of Liz and Steve Maher, co-owners of Data Makes the Difference, LLC, who have a daughter with autism.
"The app allows the special education community to spend more time on instruction and less time on manually collecting skills data, charting results and creating skill sheets," said Liz Maher, MEd, BCBA. "In addition, behavior professionals told us that being able to track skill acquisition on a mobile device would make them more productive when working with their autism clients."
Steve added that they started with an easy-to-use design as the foundation.
"We've designed an interface that features a clean menu," said Steve Maher. "The app also packages the skills information into formats that support faster analysis, including video. Behavior pros can do more with less, and focus more time on behavior plans for their clients."
Some of the time-consuming activities that are now automated by the STP app include:
· Cold probe for skills
· Cold probe for mands
· Rate of manding
· Trial-by-trial data collection
· Randomized presentation of targets
· Video recording of teaching sessions
· Charting and exporting of all data and skill sheets
· Phase-change lines
· Fully-customizable parameters for each student
The Mahers released their first behavior analysis app about one year ago, called Behavior Tracker Pro. That program captures behavioral data and translates it into graphs for easier interpretation. Nearly 2,000 of those applications have been downloaded to-date.
Skill Tracker Pro is available in the Apple iTunes store for $29.99, and regular upgrades are being planned to roll-out for free to all users over the next year.
For more information and to purchase the app, visit www.behaviortrackerpro.com/products/stp/STP-for-iPhone.aspx. Follow STP on Twitter, at www.twitter.com/btpautism, and on Facebook, at www.facebook.com/home.php?#!/pages/Behavior-Tracker-Pro/143005615731739?ref=ts.
About Data Makes the Difference, LLC
Data Makes the Difference, LLC, is a software development company that creates applications for the iPhone and most other mobile devices. Founded in 2009 by the husband-and-wife team of Steve and Liz Maher, the firm's important work has already helped hundreds of children with autism live better lives. Nearly 2,000 behavior professionals are already using its first app, Behavior Tracker Pro, to capture, track and analyze behavioral data on an iPhone, iPod Touch, iPad, BlackBerry, Palm or Android device. Its second app, Skill Tracker Pro, was released this September. Both apps are available on the Apple iTunes store. Visit www.behaviortrackerpro.com.
###
Contact
Data Makes the Difference, LLC
Steve Maher
570-332-2285
www.behaviortrackerpro.com

Contact