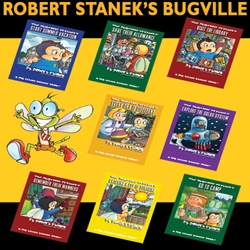 Seattle, WA, November 01, 2010 --(
PR.com
)-- Reagent Press, www.reagentpress.com, is pleased to share The Bugville Critters with readers and hopes readers will in turn share these books with parents, teachers, and anyone else who loves children's stories. Reagent Press has donated books to schools every year since operations began. In 2007, when Reagent Press started publishing children's picture books, they launched an official "Books For Schools" program, featuring Robert Stanek's Bugville Critters. Last year, Reagent Press and Robert Stanek donated about $25000 in books to schools all across the U.S. including schools in the Bronx N.Y., Puerto Rico, Guam, and an entire 2nd grade that had never before had books of their own.
How does the program work? Reagent Press is giving away free copies of Bugville Critters books to any Pre-K, K, 1st, 2nd and 3rd grade teachers who read the books in the classroom to their students as part of story time or any other in-classroom reading activities. The Bugville Critters books are printed in full-color on 70# archival quality paper and come in a variety of formats and sizes.
What are the books about? The author, Robert Stanek, wrote these books originally as bedtime stories for his own children. The stories address the real issues and challenges children face as they start school, make friends, and start to learn about the world around them. The stories provide real lessons about life, friendship, family, our world, the natural world of which we are all a part, and our environment. With global warming looming large in everyone's thoughts, has there ever been a better time to send positive messages to our children about the importance of our natural world and the environment?
About the Books For Schools program, Robert Stanek said, "It's a good feeling to give, and letters from kids and teachers really mean a lot." Robert Stanek has received hundreds of letters from thankful children over the years. Some of these letters are displayed online at
www.bugvillecritters.com
.
Robert Stanek added, "The 2010 – 2011 school year was to be the last year of the giveaway program, but I'd like to try to keep it going but I need help. Also, we still have quite a few of this school year's allocation on hand—much more than usual. My goal was to make this year the best year of the giveaway program, but it doesn't look like that's going to happen. Everyone can help by telling others about the program. Every participating classroom receives at least two premium edition Bugville Critters books, and we often mail out at our expense free additional books in subsequent years."
Any teacher who wants free copies simply needs to:
1. Send a letter stating they'd like free teacher's copies of Bugville Critters books and that they agree to use the books in the classroom and to not resell them.
2. In the letter, include the teacher's name, classroom number, grade level taught, school name, school telephone number with area code, school address, and principal's name.
3. Include a self-addressed stamped 10" x 13" envelope with $4.25 in pre-paid postage to:
RP Books / Reagent Press
Free Books for Teachers
P. O. Box 362
East Olympia, WA
98540-0362
Every school that follows Steps 1 - 3 will be mailed at least 2 (two) premium edition Bugville Critters books, which each have a retail price of $7.99 and higher. Many participating schools and classrooms receive additional free copies as well in subsequent years, mailed out at no cost.
Pre-K, K and 1st, 2nd and 3rd grade teachers in schools across the U.S.A. also can participate in "Send a Letter to Buster Bee" campaigns and get free books for their classrooms along the way. Any classroom that has a "Send A Letter To Buster Bee" campaign will get two or more Bugville Critters books for their class and can qualify to receive free copies of the complete Buster Bee and Lass Ladybug Adventure series—all fifteen books. To qualify, simply send a sampling of letters from children who participated in the campaign as well as letters from teachers and parents detailing how the books and the "Send A Letter To Buster Bee" campaign helped children learn about reading and writing.
Please note that the number of books given away depends on sales of The Bugville Critters books and the participation of teachers and schools. While not every school that participates will receive a free complete 15-book set, RP Books tries to ensure that every participating school is a winner in some way and may give away individual free copies of other Bugville Critters books as well. RP Books / Reagent Press reserves the right to change or cancel this giveaway at any time without notice. Valid only in the United States. Void where restricted or otherwise prohibited by law.
About the Author
Robert Stanek is the author of over 100 books. His epic series Ruin Mist Chronicles includes Keeper Martin's Tale, Kingdom Alliance, Fields of Honor, and Mark of the Dragon and was also released for young adults as The Kingdoms and the Elves of the Reaches #1 - #4 and In the Service of Dragons #1 - #4. He is also well-known for his Bugville Critters children's picture book series. His books have been bestsellers on Amazon.com, Barnesandnoble.com, Audible.com, and Apple iTunes.
For more information, visit www.bugvillecritters.com and www.reagentpress.com.
About the Publisher
RP Books & Audio was founded in 1994 as Virtual Press. Our products fall into four major categories: children's fiction, teen fiction, adult fiction and nonfiction. Our imprints include Reagent Press, Reagent Press Books for Young Readers, RP Audio, RP Audio Kids, and Classroom-To-Go.
www.reagentpress.com
###