Explore the Solar System with Author Robert Stanek as He Takes Readers Along on His Fifteen Year Dream of Bugville in His 21st Bugville Critters Picture Book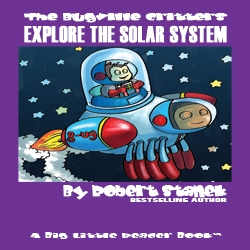 Seattle, WA, November 15, 2010 --(
PR.com
)-- Robert Stanek has been dreaming of the stars and life beyond our world ever since reading Edgar Rice Burroughs classic "Mars" books as a child, and he's always wanted to write a book that could inspire children to learn more about the things they see up in the sky from the moon and the sun to the planets and the stars. In "Explore the Solar System," his 21st Bugville Critters children's picture book, he does just that. The book is coming to print officially for the first time on November 15, 2010.
Robert Stanek quietly worked on the Bugville Critters for 15 years, satisfied with only the gleeful cheers, laughs and giggles of his children who delighted to hear his tales of Bugville and a little bug called Buster. As his children got older, they urged him to get the books published so other children could enjoy them as much as they did, and that's exactly what Robert Stanek set out to do in 2004.
As a young child, Robert Stanek's family was very poor. He was one of five children raised by a single mom. Books allowed Robert to escape the poverty and violence that filled his early life. In his favorite books, the protagonist was always in some exotic locale. Whether it was the red planet, twenty thousand leagues under the sea or the jungles of Africa, that's where Robert imagined he was. In that way, the precocious lovable bug, Buster, is a lot like his creator. Buster's active imagination is always taking him somewhere.
In "Explore the Solar System," Buster's imagination takes him on a trip through the solar system on a rocket ship. He sees the earth and moon from space. As he sets off to explore the rest of the solar system, he encounters asteroids and many strange and wonderful sights. "Robert does an amazing job of taking readers through the solar system," says Jeannie Kim, publisher at Reagent Press. "Children reading the book whether alone or with their parents help will learn a lot about our solar system. Like Robert's Remember Their Manners and others he's written in this series, this is a book that deserves a Caldecott Medal, but will never even get a nomination because we are a small, independent press."
Robert says, "When I was a boy, I dreamed of visiting Kennedy Space Center and flying a rocket ship. A few years back I got to live that dream when I visited Kennedy with my family, and it was just as good as I'd imagined it. Buster's B-u-g rocket would fit right in next to the space shuttle."
As a technology journalist, Robert has written for PC Magazine, Dr. Dobbs, TechNet Magazine and a variety of other leading magazines. As a technology writer, he's has written for Simon & Schuster, Random House, Macmillan, Pearson, Microsoft, O'Reilly and other publishers. Of that, he says, "What I love most is writing books that help people. My technical articles and books have helped millions of readers learn essential job skills. I want my children's books to help kids learn essential life skills."
For more information, visit www.bugvillecritters.com and www.reagentpress.com.
Explore the Solar System (The Bugville Critters #21)
Robert Stanek
RP Books & Audio - Reagent Press
ISBN: 978-1-57545-179-4 $11.99 42pp
Available at Ingram, Amazon.com, Barnes & Noble and elsewhere.
RP Books & Audio was founded in 1994 as Virtual Press. Our products fall into four major categories: children's fiction, teen fiction, adult fiction and nonfiction. Our imprints include Reagent Press, Reagent Press Books for Young Readers, RP Audio, RP Audio Kids, and Classroom-To-Go. www.reagentpress.com
###
Contact
RP Books & Audio - Reagent Press
Jeannie Kim
360-791-0705
www.reagentpress.com
www.bugvillecritters.com

Contact
Multimedia
Includes "Go on Vacation" in its entirety for press and preview purposes only. Please purchase the book if you intend to keep it in your collection.