GadgetBoost.com Releases the DockExtender Boost iPhone iPod and iPad Extender and Adapter
Created by Gadgetboost.com, this new dock extender adapter eliminates the need to constantly peel an iPod or iPhone from its case or bumper to use with a docking station or speaker system.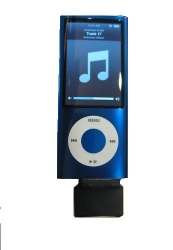 San Diego, CA, November 02, 2010 --(
PR.com
)-- GadgetBoost.com is excited to announce the DockExtender Boost iPhone, iPod, and iPad dock extender and adapter creating one of the most useful products for the iPod (all models), iPhone (including iPhone 4) and iPad that customers have been looking for: The Apple iPad iPod and the DockExtender Boost in Black. This new dock extender adapter eliminates the need to constantly peel an iPod or iPhone from its case or bumper to use with a docking station or speaker system.
Plug and Play is back. Customers can just plug in the adapter and extend the iPad, iPod and iPhone dock. All 30 pins are passed through, so any other iPod or iPhone features work and it even works with the OtterBox Defender, Element Vapor, and for iPhone 4 Bumper.
Most popular uses:
Extend an iPhone 4 with the Bumper on
Instantly attach an iPod Nano 5th Gen to a Dock
Use an iPhone without removing the Element Vapor case
Quickly dock an iPhone 3G or iPod with OtterBox Defender case on
Effortlessly extend an iJet remote
Allow for iPhone and iPod docking to a clock or speakers with a narrow base
Replace a long iPhone dock extender cable
Use an Apple iPhone 4 Universal Dock with the Bumper on
Solve the problem of iPhone 4 bumper having a tight opening around its access dock
Connect a USB cable to an iPhone or iPod dock
The DockExtender Boost is a winner - A customer's story:
"I became very frustrated with using both my iPod Nano 5G and my iPhone. It started with my iPod Nano. I was excited about the new product (having upgrade from the 3G) and tried to dock it on a speaker dock I owned for years. The dock charges the iPod and then you connect the audio out of the iPod to the dock with a small 3.5mm male to 3.5mm male cord. Unfortunately, I was unable to access the iPod's audio out because it is so close to the 30 pin connector. I determined that the only way I would be able to use the speaker dock would be if I could somehow extend the dock on the bottom of the iPod.
"More recently, I purchased an iPhone 4G and was again excited about my new product. Just like with the iPod, I wanted to dock the iPhone on my speaker dock to listen to music. I had received an iPhone Bumper (because of reception issues) and had it on my iPhone. Unfortunately I could not dock it because the Bumper case is so tight and reduces the area around the 30 pin connector on the bottom of my iPhone. I had to remove the Bumper in order to dock to the speakers. I recently replace the Bumper with an OtterBox case but ran into the same problem that I had with the Bumper (the iPhone dock area is reduced) so I had to remove the case (which is a real pain).
"I was so happy to find the DockExtender Boost - it definitely solved my docking issues and I am a very satisfied customer!" -M. Lam
Why GadgetBoost.com created this product:
GadgetBoost.com discovered on message boards that there were many users struggling with the same issue and there were some products newly available but none of them worked with the iPhone Bumper on.
Compatible with:
iPad
iPhone 4 (with bumper on), 3G, 3GS
iPod Nano (including new 6th Generation)
iPod Touch
iPod Classic
iPod Mini
iPod Photo
iPod Video
iPod 3G
iPod 4G
iPod 5G
iPod 6G
Please visit GadgetBoost.com, to see this exciting new product.
###
Contact
GadetBoost.com
Don Wallar
760-896-4763
www.gadgetboost.com

Contact
Multimedia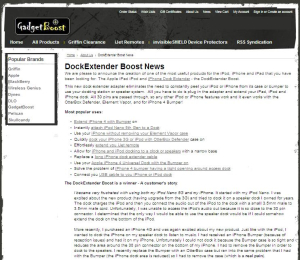 GadgetBoost.com has created one of the most useful products for the iPod (all models), iPhone (including iPhone 4) and iPad that customers have been looking for: The Apple iPad iPod and iPhone Dock Extender - the DockExtender Boost in BLACK