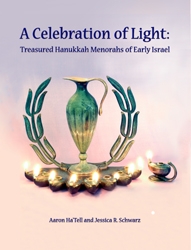 Skokie, IL, November 24, 2010 --(
PR.com
)-- Aaron Ha'Tell of Hanukkiot.Com announced today that the striking hardcover color classic "Lighting the Way to Freedom: Treasured Hanukkah Menorahs of Early Israel" (ISBN 1-932687-66-1) and the new poetic softcover black and white "A Celebration of Light: Treasured Hanukkah Menorahs of Early Israel" (ISBN 978-0-557-13711-4) are now both in print and available everywhere (see
www.hanukkiot.com
for links to dealers.)
Folks the world over – from modest homes and town squares to the White House - are preparing to celebrate Hanukkah and the victory of the lights of freedom over the darkness of tyranny. When he originated the holiday over 2000 years ago, Judah the Macabbee could have hardly predicted how the Festival of Light would capture the imagination of mankind. The happy custom is embodied in the lighting of Hanukkah menorahs, the nine-flamed candelabra. Family gatherings and gift giving make the event a special occasion as winter approaches, especially to children.
According to the Association of Jewish Libraries (Newsletter 11/2007), "This unparalleled work will be of substantial value to collectors and others interested in Judaica. It deserves a place in Judaica reference collections."
As the United States continues to lead the world in a global war against tyranny, more and more Americans are finding inspiration in the message of Hanukkah. This ancient triumph has been dramatically repeated in modern times. Freedom-loving men and women finally defied centuries of murderous tyranny by reviving their ancient Maccabee tradition in their ancestral Land of Israel.
According to several reviewers, the books have opened a previously little-known amazing treasure trove to many people. One reviewer (Northshore Magazine 12/06) wrote, that the hardcover book "offers a fascinating three-dimensional view of the State of Israel... warm teachings and historically vibrant tales are woven among the rich photography, creating an unusually engrossing tribute to the menorah and its enduring legacy as a symbol of hope, belief, and freedom."
Each of the books can serve to beautify a home and teach children and grown-ups alike about Hanukkah and modern Israel's birth with over 500 gorgeous photos of menorahs made in the Land of Israel during the period 1920-1973 to honor the talented pioneer artists who crafted the menorahs of this Golden Age.
According to Photoshop Roadmap, "This is the first major work to focus on the history of early Israel, from the 1930's through 1960's through the beautiful images created lovingly by pioneer artists and craftsmen. From the first waves of immigrants, through the Holocaust and early days, to the blooming of a free democratic state, the book inspires and awes."
Refs
http://www.photoshoproadmap.com/Art-and-Design-Resources/Art-and-Illustration-Books/item/1932687661
www.hanukkiot.com
###