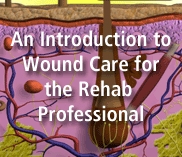 Franklin, TN, December 22, 2010 --(
PR.com
)-- North American Seminars, Inc. introduces an evidence based physical therapy continuing education course online on wound management directed at the rehab professional in order to enhance their knowledge of wound care and its impact on the rehab treatment plan.
Wound management is a multi-factorial, holistic and interdisciplinary approach to wound closure versus "wound care" which is simply to local topical care of the wound itself by a wound specialist.
Very often in the wound management setting the team is multidisciplinary but not interdisciplinary. The latter is a team that is collaborative and unified in its focus; that focus should always be patient centered. Each member of the interdisciplinary team sees the patient and their disease process through the filter of their respective discipline. In this lies the strength of the team.
Effective wound management requires that the likely etiology of the ulcer is determined. Treatment is directed at rectifying that disease process since the chronic wound is most often a symptom of an underlying pathology. If the actual cause or major predisposing factor, such as protein energy malnutrition or pressure, is not determined and addressed the wound will more than likely fail to close or remain at high risk for recurrence.
This
physical therapy continuing education course online
will focus on developing an understanding of wounds such that the basis for successful treatment plans can be determined.
Online Course Learning Objectives
1) Describe the characteristics of various types of wounds in order to develop the appropriate treatment programs.
2) Explain the conditions present in a wound immediately after injury.
3) Identify the inflammatory phase of the wound to include visual identification of inflammation in a wound.
4) Understand and explain the proliferative phase of wound healing.
5) Visually identify hypergranulation.
6) Explain the remodeling or maturation phase of wound healing to include characteristics, types of scarring (hypertrophic amd keloid) and skin grafts.
7) Describe epithelialization at the cellular level.
8) Describe the layers of human skin visually and verbally.
9) Identify the primary cell types of the epidermis.
10) Detail the importance of hydration and its effect on proper or improper healing of a wound.
This online wound care course is directed at physical therapists and occupational therapists. It is pre-approved for 3.0 contact hours in Alaska, Arkansas, California, Colorado, Delaware, Illinois, Indiana, Massachusetts, Missouri, Montana, North Carolina, New Hampshire, Oregon, Rhode Island, Utah, Virginia, Washington and Wisconsin. AOTA Provider # 4487. Visit
http://www.healthclick.com/Online-Continuing-Education/courses/Introduction-to-Wound-Care.php
for the most current list of approvals.
###