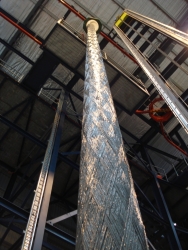 Atlanta, GA, April 14, 2011 --(
PR.com
)-- This Australian Patent provides protection for the Cement-containing composition utilized at Dulhunty Power's Eco-Titan Distribution Pole facility in Geelong, VIC Australia. This material is a key component in the most environmentally neutral pole manufactured in the world. The Cement composition is a key component in the eco-Titan pole's ability to deliver the lowest whole of life Carbon Footprint of any manufactured distribution pole product.
The Cement composition delivers the ability to manufacture high performance poles that are lighter, stronger and more durable in their service to the utility industry for years to come. Recent ENA approved fire testing utilized this material in an eco-Titan pole, where the pole passed the test as the best performing product of any tested. Additionally, more tests were performed that indicated after a severe brush fire incident the pole continued to perform well within safety design specifications.
The eco-Titan represents the first new pole product introduced in over 16 years. Composite Materials Technology and CMT Worldwide have invested 11 years developing this innovative patented ground breaking product. Utilizing OCV Reinforcements Alkali Resistant Rovings and the newly patented cement composition, eco-Titan delivers superior cost competitive advantage, lower shipping costs and better performance over the product's life. Additionally, all products include Radio Frequency chips for remote tracking, quality control and maintenance.
About Dulhunty Power, Ltd., Melbourne VC, Australia
Dulhunty Power manages Dulhunty Poles Pty Ltd, a full scale eco-Titan manufacturing facility in Geelong, Victoria. Through license from CMT Worldwide the poles are manufactured for distribution throughout Australia and their region. Dulhunty Power manufactures a wide range of transmission and distribution hardware for markets worldwide. Additional fittings are being developed to complement the Titan pole, which can also readily accept standard fittings designed for traditional wooden and concrete poles.
www.dulhuntypower.com
About CMT Worldwide, LLC, Marietta, GA
CMT Worldwide, LLC is the leading provider of eco-Titan Pole technology to the worldwide market. Established in 2006 to assist in expanding the market acceptance and market penetration, CMT Worldwide currently has licensees manufacturing in the United States and Australia.
www.titanpoles.net
About Composite Materials Technology, LLC, Valdosta, GA
Composite Materials Technology is the leading provider of Titan pole structures for the utility, lighting and rail markets. Composite Materials Technology, a leader in cement composites and filament winding research for over 15 years, developed the original filament wound Titan cement composite technology. All products are designed to meet stringent standards in each market sector. Composite Materials is a subsidiary of Langdale Forest Products, a 115 year old Wood products company headquartered in Valdosta, GA.
For More Information Contact
Peter Mokhiber, Marketing Communications, 770-509-5562
or email at pmokhiber@titanpoles.net
www.titanpoles.net
###