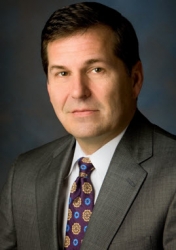 Los Angeles, CA, May 26, 2011 --(
PR.com
)-- Guy J. Cottrell, Chief Postal Inspector of the
US Postal Inspection Service
will attend the
JCK Las Vegas Jewelry Show
on Monday, June 6th at the invitation of the
Diamond Dealers Club of New York
(DDC) and
TransGuardian.com
(at the DDC Pavilion, Booths 4465-4474).
TransGuardian, a USPS Business Alliance Partner, is a provider of online multi-carrier software that insures USPS, FedEx, and UPS packages for up to $150,000 through Wells Fargo Insurance Services.
The DDC's Bonded Trading Service facilitates its Members' diamond sales with secured accounts receivable and uses TransGuardian to manage insured distribution.
The US Postal Inspection Service is committed to protecting diamond and jewelry shipments traveling in the US mailstream. TransGuardian works directly with US Postal Inspectors to protect its packages.
"Tampering with the US Mail is a felony," said Chief Cottrell, "punishable by up to five years in federal prison without the possibility of parole. I'm pleased to visit the JCK Show and represent the Postal Service's commitment to providing secure service and support to this industry."
As one of our country's oldest federal law enforcement agencies, founded by Benjamin Franklin, the United States Postal Inspection Service has a long, proud, and successful history of fighting criminals who attack our nation's postal system and misuse it to defraud, endanger, or otherwise threaten the American public. As the primary law enforcement arm of the United States Postal Service, the U.S. Postal Inspection Service is a highly specialized, professional organization performing investigative and security functions essential to a stable and sound postal system.
Chief Cottrell was named Chief Postal Inspector for the United States Postal Inspection Service in July 2010. In this role, Cottrell oversees all operations of the Postal Inspection Service, which includes the National Headquarters, 18 divisions, two service centers and a national forensic laboratory. The installations are staffed by over 1400 Postal Inspectors, more than 650 Postal Police Officers and approximately 600 support personnel. He is also the Chairman of the Universal Postal Union's (UPU) Postal Security Group. The UPU is a multi-national association of Postal Administrations with 191 member countries.
"The DDC NY is opening a Concierge Shipping Service on its premises at 580 Fifth Avenue, New York on June 13, right after the JCK Show," said Lou Rohde, Director of Member Services for the DDC. "We'll have the full range of shipping supplies and self-service computers. Insured USPS Express Mail, Priority Mail and Registered Mail packages are a significant Member benefit. With USPS pickup and delivery at the Club, we're providing a convenient, safe and economical option – one that saves our Members at least 30% over the old way of shipping."
"We are great believers in the US Postal Service," said Jim Moseley, President/CEO of TransGuardian. "They are making strides in the areas of security, tracking, technology and pricing that are creating new logistics solutions for the diamond and jewelry industry. Most people compare apples to apples – one of the two major carriers vs. the other. But sometimes what a high-value shipper really needs is an orange – the unexpected versatility of the USPS. Our multi-carrier software offers up to 70 shipping options at once – that's why we say it's not just about price – it's about choice."
###