CD-adapco to be Featured on Upcoming Episode of Business Update
Engineering Simulation: Saving America Money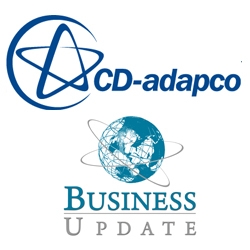 Melville, NY, December 19, 2011 --(
PR.com
)-- CD-adapco proudly announces its participation in an upcoming episode of Business Update.
This segment of Business Update will focus on how engineering simulation is changing the way aerospace and defense products are tested and evaluated. Instead of constructing laborious and expensive physical tests, engineering simulation allows products to be tested in a virtual environment on a computer.
CD-adapco will be featured in this episode to demonstrate how engineering simulation plays a vital role in the aerospace and defense industry. In an environment where economic pressures and congressional budgets require reduced development costs and time to market, its software product, STAR-CCM+ aids the industry in meeting such demands. CD-adapco is a well-established global company in this space, and has been growing at ~30% annually in the US. During this time the aerospace and defense industry has been the fastest growing sector for CD-adapco.
Deryl Snyder, CD-adapco's Director of Aerospace & Defense commented, "At CD-adapco, our purpose is to inspire innovation while reducing costs through the application of engineering simulation. Nowhere is this truer than in the aerospace and defense industry. Our customers are able to improve their development processes by using simulation to reduce time and cost while simultaneously enhancing their product. This provides them with a critical competitive advantage, especially in the current economic environment." Snyder continued, "We are pleased to be featured in the Business Update series, and recognize that it offers a valuable opportunity to share how we enable organizations to compete and excel in a changing aerospace and defense industry."
Vince Moss, producer for the series said, "Physical testing can cost a company or government organization hundreds of thousands of dollars. A reliable simulation can provide the same results at a fraction of the cost. Engineering simulation is changing the aerospace and defense industry."
About Business Update:
Business Update is a corporate-America type series covering the world of business, finance and technology. From Main Street to Wall Street, our award-winning producers take an in-depth look into some of the hottest topics and current trends impacting our society.
For more information visit: www.dmgproductions.org or call (866) 496-4065.
About CD-adapco:
CD-adapco (www.cd-adapco.com) is the world's largest independent CFD focused CAE provider. Our core products are the technology-leading simulation packages, STAR-CCM+ and STAR-CD. The scope of our activities, however, extends well beyond CFD software development to encompass a wide range of CAE engineering services in fluid dynamics, heat transfer and structural engineering.
A privately owned company, CD-adapco has maintained near 30% organic year-on-year growth in the US. CD-adapco employs over 550 talented individuals, working at 25 different offices across the globe.
For more information, visit: www.cd-adapco.com or call (631) 549-2300.
###
Contact
DMG Productions, LLC
Vince Moss
(866) 496-4065

Contact