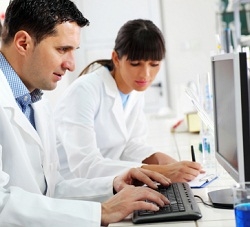 Santa Cruz, CA, January 25, 2012 --(
PR.com
)-- Bio Careers, the leading online career service for postgraduate life scientists, is holding the spring edition of its
Virtual Job Summit
for life science postgraduates. The event opens February 1st, with live interaction with employers on April 4th and 5th, 2012. The online summit will enable employers to meet, converse with and interview alumni and degree candidates from 40 of the top 60 US training institutions, and our Global 200 graduates - without leaving their office.
The 2011 edition of The Bio Careers Virtual Job Summit had over 600 scientists attending an average of 3 times for over 50 minutes a visit. Given the success of its inaugural Summit, Bio Careers has made it a biannual event uniquely designed for life science Master's and PhD graduates. The event is free for jobseekers who are Bio Careers Members.
"We were excited about the success we had in 2011 when we launched the world's first Virtual Job Summit for life scientists. Statistics speak for the event: over 2800 booth entries, 300 videos views, 1500 document views, and 50 minutes average time per jobseeker visit to the event," Bio Careers President Nick Folger said. "Our experience with the first edition taught us that many employers register in the last weeks before the live event. So, we advise jobseekers to check back often after the booths open on February 1st."
To date, the following employers subscribed for the event: St. Jude, City of Hope, Promega, Covance, Stanford, Columbia, University of Texas Medical Branch, Propel Careers, and PSC Biotech.
Timeline for the job summit:
· In January, Bio Careers will help organizations set up their virtual booth.
· In February and March, job seekers will navigate through the exhibit hall, download materials and determine which employers to visit.
· On April 4 and 5, employers will video chat with interested job seekers at their booth.
· Later in April, employers will conduct video interviews and receive detailed metrics regarding who visited their booth.
Registration for the Virtual Job Summit is currently open, and early bird rates are available, so register soon for substantial discounts. For more information, call (877) 862-4656, Ext. 102 or email Sales@biocareers.com
About Bio Careers
Established in 2006, Bio Careers gives employers a time-saving, cost-effective way to recruit the nation's leading life scientists. It is the only online career service that caters exclusively to Postgraduates and MDs, and it is the only such service that directly assists training institutions. More than 30 of the country's top 50 training centers are institutional members of Bio Careers.
Media Contact: Marina Enachi, Marketing Director
Direct Phone: (877) 862-4656, Ext. 116
Direct Email: marina@biocareers.com
###