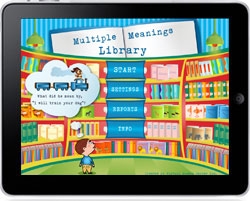 Burbank, CA, May 16, 2012 --(
PR.com
)-- Virtual Speech Center Inc., the provider of mobile applications for speech therapy, announced today the release of Multiple Meanings Library, an iPad application available for download on Apple's iTunes App store.
The Multiple Meanings Library was created by a certified speech and language pathologist for students ages 5–15 who struggle with oral and written comprehension of words with multiple meanings.
Having knowledge of multiple meanings is critical for both oral and written communication and a successful education. Children are exposed to words that have multiple meanings on a daily basis at school and social settings. Students are expected to access their lexical dictionaries quickly enough to accurately respond to a teacher's directions or questions; however, sometimes the teacher's directions or explanations may contain words that have more than one meaning, making it very difficult for children with limited vocabulary knowledge to understand.
The Multiple Meanings Library can be used for students with:
- Receptive/expressive language disorders
- Word-finding problems
- Learning disorders
- Autism
- Specific language -learning disorders, etc.
The Multiple Meanings Library allows students to practice multiple meanings in the following five different types of activities:
- Auditory bombardment
- Definitions
- Picture identification
- Fill-in
- Make up sentences (with audio recording feature)
To install the Multiple Meanings Library application, please visit the Apple application store page below:
http://itunes.apple.com/us/app/multiple-meanings-library/id525605265
To learn more about this application, please visit www.virtualspeechcenter.com website:
http://www.virtualspeechcenter.com/Resources/Multiple_meanings_app.aspx