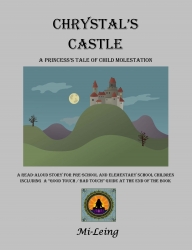 Roseville, CA, June 14, 2007 --(
PR.com
)-- Mi-Leing teaches children, who have been victimized by sexual abuse (or have potential to become so), with an instructive story on how to break the silence, and bring an end to this wide-spread unspoken violation.
The story is written in the manner of a fairy-tale, and in the style of Dr. Seuss. The combination of colorful fantasy illustrations, with rhyme, creates a fascinating tale that children will want to see and hear repeatedly.
Mi-Leing wrote "Chrystal's Castle" to help both molested children, and those who are at risk for becoming victims, overcome their fears by raising awareness on the issues they are frequently too afraid to speak of. Too often, the children are silenced by fear, and have little recourse or understanding of what is happening to them when they are victimized. The intent is to get them to realize they are not alone in their nightmare, have nothing to be ashamed of, and to instruct them on ways to acquire immediate help.
This tale targets the youngest of children, and is intended for them to hear the story in read-aloud settings. As an aid to the awkward explanation of inappropriate touching, a "Good Touch / Bad Touch" guide is also provided at the end of the book. Though the story addresses a serious topic, it is written in an appealing, non-threatening manner to capture the attention of all children.
The current national statistics on child abuse in America is staggering. The author aims to reduce those numbers by providing both preventive methods to deal with the children's vulnerability, and to educate them with the appropriate actions to take in the event they have already been victimized.
This book is available for purchase at lulu.com/content/847623.
About the Author:
Mi-Leing is a freelance and technical writer, and is a member of the Society of Children's Book Writers and Illustrators (SCBWI). As a member of a local philanthropist organization, she also contributes to anti-child abuse programs.
Contact information for Mi-Leing:
Phone: 916-284-1019
Website: www.lulu.com/mileing
email: mileing@yahoo.com
###