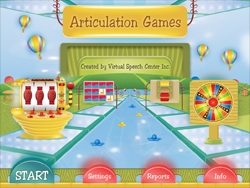 Burbank, CA, September 21, 2012 --(
PR.com
)-- Virtual Speech Center Inc., a leading provider of mobile applications for speech therapy, announced today the release of Articulation Games, an iPad application for children to practice the articulation of English sounds, available for download from Apple's iTunes app store.
Articulation Games provides speech and language pathologists, parents, and students with a comprehensive, fun, and flexible speech-therapy application that targets over forty English phonemes in the initial, medial, and final positions of words and at the word, phrase, and sentence level. These phonemes are represented with over 1000 beautiful real-life pictures and accompanied by professional audio recordings.
This flexible speech therapy app takes drilling with flashcards to the next level by utilizing a gaming approach and a reward system, making speech therapy more fun and motivating for children. Articulation Games includes four games: flashcards, a memory game, the Sweet Spinner, and the Artic Wheel. It also allows audio recording, data recording, and progress tracking.
"Our goal was to create an articulation app that goes beyond flashcards to make speech therapy fun and enjoyable for children. The games that come with Articulation Games allow children to play a memory game, operate the spinner to win animated candies, and spin the wheel to win animated pets and practice sounds at the same time," said Beata Klarowska, MS-CCC-SLP (Co-founder of Virtual Speech Center Inc.)
"What's unique about this application is that the users can practice all the phonemes by playing any of the four games," added Beata Klarowska.
To install the Articulation Games application, please visit the Apple app store page below.
http://itunes.apple.com/app/articulation-games/id561096403
To learn more about this application, please visit
www.virtualspeechcenter.com
.