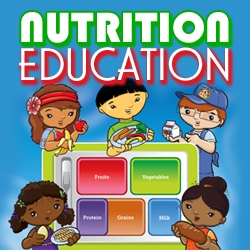 Hauppauge, NY, October 09, 2012 --(
PR.com
)-- A proud National Strategic Partner with the USDA, Positive Promotions is excited to announce their new line of products in support of the changes made to the USDA's school nutrition programs. They offer an affordable collection of nutrition and fitness resources for children, parents, schools, and government organizations like WIC, Head Start and SNAP-ed.
Across the United States, the school year has begun for most children. Students may have noticed, along with parents, teachers and staff, the meals being offered in cafeterias are healthier versions than those in years past. Under the Healthy, Hunger Free Kids Act of 2010, the USDA's school nutrition programs have implemented higher nutrition standards in schools nationwide.
Endorsed by First Lady Michelle Obama, reforms to school nutrition programs are being made in hopes of helping fight childhood obesity. Under the new standards, schools must now provide high nutrient meals with adequate calories determined by age based on current nutrition science. School meals are now "right-sized" and must maintain a balance between food groups. Wholesome foods such as fruit and vegetables, whole grains, lean proteins and low-fat milk are among the requirements.
In support of the USDA's slogan, "The School Day Just Got Healthier," Positive Promotions has an exclusively designed line of products to help students build a healthy tray. Designed in accordance with the new nutrition baseline, Positive Promotions presents their "Choose a Healthy Tray" educational tools and displays for the cafeteria, classroom, and home.
Positive Promotions vinyl signs and posters provide visual displays and reminders of how to "Choose a Healthy Tray." Their dry erase menu board allows foodservice staff to display food options for students to create a balanced meal. Teachers can use the "Choose a Healthy Tray" activity tablet or activity book as teaching tools to reinforce nutrition in the classroom. While parents can encourage their kids to build a healthy lunch at home with Positive Promotions "My Lunchbox" magnet.
In addition to their exclusively designed "Choose a Healthy Tray" product line, Positive Promotions has educational tools supporting the national MyPlate and Let's Move campaigns. Silicone bracelets, educational cards, activity books, jump ropes and water bottles are just a few of their many affordable nutrition education resources. Starting as low as $0.06 each, many of their products are eligible for purchase with government funds through WIC, Head Start, and SNAP-ed programs.
Positive Promotions is a budget-friendly, one-stop-shopping source for awareness and educational tools. It is a direct source that offers quality product at exceptional monetary value. Customers can order in 4 easy ways: online anytime at
positivehealthykids.com
, by calling toll free at 1-800-635-2666 to speak to with a knowledgeable customer service representative Monday-Friday from 8am-7pm EST, by faxing an order toll-free at 1-800-635-2329 anytime, or by mailing an order to Positive Promotions at 15 Gilpin Avenue, P.O. Box 18021 Hauppauge NY 11788-8821. To request a catalog visit the company website at
positivepromotions.com
and click on the link under customer service.