Texas Self Storage Association Donates $70,000 to Shriners Children's Hospital in Galveston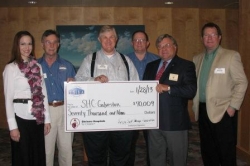 Round Rock, TX, February 01, 2013 --(
PR.com
)-- The Texas Self Storage Association (TSSA) recently raised more than $70,000 in 2012 for the Shriners Children's Hospital in Galveston. This Association has raised funds through various events held during their annual convention for the past 12 years, and is approaching the half million dollar mark on total funds raised. TSSA Fundraiser Committee Co-Chairs Doug Hunt and David Hunt plan to meet that level with fundraising in 2013.
A group representing TSSA presented the check to the hospital's Board of Governors in Galveston on January 28, 2013 after touring the hospital. (In the photo from left to right: Amy Morton, America's Storage, Waco; David Hunt, Access Self Storage, Lancaster; David Hunt, Access Self Storage, Lancaster; Larry Easley, Storage Management Associates, San Antonio; Gary Reynolds, Shriners Hospital for Children Board of Governors Chairman; and Mark A. Skeans, Mission Road Mini Storage, San Antonio and TSSA Board President.)
During the tour, the group learned about the importance of the tissue bank in helping patients recover from their burns. After visiting various areas of the hospital and meeting some of the dedicated staff at the hospital, Mark Skeans, TSSA President stated that "having the opportunity to see how much good is done with the money donated has doubled his resolve to continue supporting the Shriners Hospital for Children in Galveston."
The Shriners Hospital for Children in Galveston has been a pioneer in burn care since the 1960s. Some of the most significant advancements in burn care – such as skin grafting and the development of engineered skin – were first made at this hospital. Patients receive advanced care for burn injuries and related scarring, along with physical rehabilitation and emotional support to help them cope with re-entering their school or community after their injury. Care is provided without regard to race, color, creed, sex, sect, disability, national origin or ability to pay.
The TSSA Fundraising Committee is already making plans for the next campaign, which will culminate at the Association's annual convention and trade show on October 27-29, 2013 in The Woodlands.
The Texas Self Storage Association was established in 1986 and is a non-profit trade association dedicated to enhancing the quality of the self-storage industry in Texas. The Association provides opportunities for members to increase their knowledge of the self-storage industry through education, research, discussion and exchange of information.
For More Information:
Texas Self Storage Association –
www.txssa.org
Contact
Texas Self Storage Association
Silvia Pendleton
512-374-9089
www.txssa.org
888-259-4902

Contact