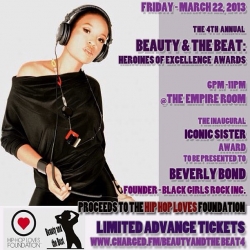 New York, NY, March 13, 2013 --(
PR.com
)-- NYC's urban elite will be in attendance for Jon Quick Select's 4th Annual Beauty and the Beat: Heroines of Excellence Awards/Fundraising Party at the Empire Room(29 W 33rd st. NYC) honoring trailblazer DJ Beverly Bond and 7 rising female stars from various industries. Hosted by Wilhelmena Model and Brand Jordan Ambassador Maria Clifton, this event will also serve as a fundraiser for The Hip Hop Loves Foundation, a non-profit org that utilizes Hip Hop culture as a tool of empowerment and eductaion. Music provided by Miss Chu the Deejay, Nadia DJ-Vidal & DJ C-DeVone. Special guest set by 107.5 WBLS Mastermixer Superhero DJ Jon Quick.
The 2013 class of "Heroines" include celebrity makeup artist Leora Edut, actress/producer Mari White, actress/director Brigid Turner, Flawless Staffing CEO Chantelle Fraser, Human Intonation owner Verneda White, educator/philantropist Pamela Washington & journalist Tomika Anderson. And this year, the Beauty and the Beat inaugural "Iconic Sister" Award recipient will go to DJ/Philanthropist Beverly Bond, founder of Black Girls Rock Inc.
"This is my favorite event of the entire year," shared 107.5 WBLS Mastermix DJ Jon Quick, the founder of the event. He also added,"There is nothing more fulfilling than giving back while simultaneously honoring some outstanding individuals and we beyond pleased to be able to present DJ Beverly Bond with our inaugural "Iconic Sister" Award."
Doors open at 6pm - 11pm. Advance tickets 15.00 for a limited time only 25.00 at the door w/rsvp with Full Names to beautyandthebeat@djjonquick.com Get your tix today: www.charged.fm./beautyandthebeat4.
Sponsored by Doris New York & Jon Quick Select.
Product sponsors - Modern Day Mogul, Doris New York Haircare and OhMyGosh Alternative Medicince.
Hosted by The Hip Hop Loves Foundation
Media partners - NV Magazine, 7days7nights.
Press inquiries: contact email - djjonquick@gmail.com