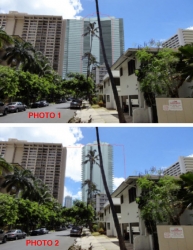 Honolulu, HI, April 25, 2013 --(
PR.com
)-- A group of Waikiki property owners together with the Waikiki Area Residents Association have filed an Appeal against the Department of Planning and Permitting's (DPP) Decision issued on March, 19th regarding the proposed 2121 Kuhio Avenue Tower. This Decision granted the project owners, PACREP LLC, a Los Angeles based Developer, with a Special District Permit subject to certain conditions.
Mark Harpenau, who is one of the Petitioners, stated "We are asking the Appeals Board to remand the Decision back to the Director to revise it in order to comply with the Land Use Ordinance and the Waikiki Special District guidelines." He added, "We believe the Decision created new and incorrect interpretations of the law and was also inconsistent with prior rulings."
The 2121 Kuhio Avenue project proposes the construction of a 37-story, 350 foot high condo hotel to include 32 residential levels containing a total of 361 condo hotel units. PACREP LLC announced back in December 2012 that the project will be branded as The Ritz-Carlton Residences Waikiki Beach.
In the Appeal, the petitioners have asserted that the DPP allegedly failed to meet the Waikiki Special District (WSD) guidelines which state "The long axis of all new high rise structures should be orientated in a mauka-makai direction to minimize obstruction of mauka views and maximize natural ventilation."
The petitioners noted that in the Findings of Fact section in the Decision, the Design Advisory Committee (DAC) noted "there is no compelling reason to contradict the WSD guidelines." The DAC further stated that "the proposal does not reflect the spirit of the WSD guidelines..." and that "there is greater public benefit achieved with a mauka-makai building orientation."
"We think this project makes a complete mockery of the Waikiki Special District guidelines," said Louis Erteschik, president of the Waikiki Area Residents Association.
In the Decision, the DPP Director Designate referred to the proposed design as a "monolithic wall." However, the Decision did not call for any change in orientation or design to preserve ocean/mountain views and natural ventilation in accordance with the WSD Guidelines.
Robert Finley, Chair of the Waikiki Neighborhood Board added, "I believe that a mauka-makai orientated tower should be pursued in order to comply with the guidelines."
The Appeal can be viewed at the Appellant's website:
http://2121KuhioTower.com
Press Contact:
Mark Harpenau
2140 Kuhio Ave, #2202
Honolulu, HI 96815
Tel: 808 782 5054
Email: markh@harp1.com
Photos provided:
Photos:
Photo 1: Ewa-Diamond Head Building Orientation Sought by 2121 Kuhio Project Proponents (red dotted line denotes outline of alternative)
Photo Credit: PACREP LLC, from Final Environmental Assessment report, (computer generated representation modified for correctness by Appellants, and presented in DPP public hearing 3/19/2013)
Photo 2: Mauka-makai Building Orientation for 2121 Kuhio Project Sought by Appellants (red dotted line denotes outline of alternative).
Photo Credit: PACREP LLC, from Final Environmental Assessment report, (computer generated representation)