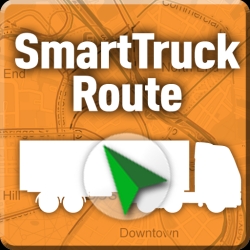 Boston, MA, May 02, 2013 --(
PR.com
)-- TeleType continues to develop their SmartTruckRoute cloud based routing for commercial drivers by adding a 3D map view to their Android based truck routing and navigation service. In addition to the U.S.A. and Canada, the app now supports Mexico, U.K., and Australia. The app was the first of it's kind to offer instant truck routing without the need to download maps. The new Android release also displays building outlines in 3D providing the driver with a pleasant display of the area and enhancing situational awareness.
The TeleType in house servers based in Boston, Massachusetts provide SmartTruckRoute users to calculate truck specific routes instantly and use the built-in GPS of the phone or tablet for navigation. The company maintains both permanent and temporary truck restriction data on their servers and updates the information daily on a pro-active basis as well as incorporating driver feedback. The software takes into account commercial truck restrictions as well as the vehicle height and weight. SmartTruckRoute helps drivers avoid costly tickets and provides additional safety. Turn by turn visual and voice instructions allow the driver to use the handset hands free when navigating.
According to Marleen Winer, Vice President, TeleType, "TeleType is focused on providing the best possible in-cloud navigation for commercial drivers, and the implementation of 3D mapping is another step in the evolution of the SmartTruckRoute app."
SmartTruckRoute Key Features and Benefits:
· Daily live map, routing, and restriction information updates
· Quickly validate truck route with the convenience of smart phone
· Use built-in GPS for turn by turn navigation
· Instant activation, no lengthy map downloads
· Unlimited truck specific routing upon purchase
· Fast routing, even long routes take less than two seconds to complete
· Visual and Voice turn-by-turn instructions
· Navigation panel displays Distance to Go, Speed, and more
· Dynamic routing based on size and weight of vehicle
· Supports Hazmat restrictions
· Displays hybrid, street mode and aerial views
· Speak destination information for convenient hands free operation
· Maps automatically cached to conserve data usage
SmartTruckRoute is available for Android and Apple iOS. Contact TeleType for corporate licensing and route integration applications.
For further information contact TeleType Company at 1-800-717-4478, 1-617-542-6220, app@smartruckroute.com, or visit www.smarttruckroute.com