TeleType Portable GPS Navigation Product Awarded GSA Advantage Contract
The TeleType GPS WorldNav 3100 Premium has been awarded a GSA Advantage contract allowing government agencies to easily purchase this portable navigation system.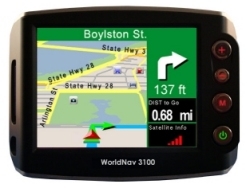 Boston, MA, August 17, 2007 --(
PR.com
)-- TeleType is pleased to announce the availability of the WorldNav 3100 Premium via GSA Advantage (www.GSAadvantage.com) allowing government agencies to easily purchase this portable navigation system.
Based on TeleType's award-winning GPS product line, the WorldNav 3100 is a compact system that weighs only 6 ounces. The device is user-friendly and simple to operate, making it easy for drivers to get from Point A to Point B. To operate the system, drivers touch the screen where a simple menu is presented just like in-dash navigation systems. The driver is then guided along their desired route effortlessly. Drivers can navigate directly to a point of interest (POI) using the extensive POI database included, or a business, home address, or even a desired street intersection.
Key Features:
* Door-to-Door GPS Navigation
* Pronounces street names in English or Spanish
Example: In 200 feet, Turn Left on Arlington Street
Touch Screen
* Includes U.S. 50 states, Puerto Rico and Canada Maps
* Most extensive POI database in the industry
* 12+ million POIs Preloaded
* Find businesses by Phone Number or Address
* Illustrates Graphic Landforms (rivers, lakes, shorelines, and parks)
* Rechargeable Li-On Battery
* Unlimited amount of Waypoints
* Additional maps available for Europe and Latin America
Established in 1981, TeleType has emerged to become a leader in the field of Global Positioning Systems. TeleType specializes in software system integration and produces innovative products for a variety of industries. GPS software solutions include support of Windows CE and Pocket PC for vehicle navigation, fleet tracking, and geographic information systems data collection. In addition, the company offers custom programming and developer tools.
The GSA Advantage (www.GSAadvantage.com) National Stock Number (NSN) is: 5825-01-394-3003. For further information contact TeleType Co. at 1-617-542-6220 or 1-800-717-4478.
###
Contact
TeleType Co.
Marleen Winer
617-542-6220 x120
www.teletype.com

Contact