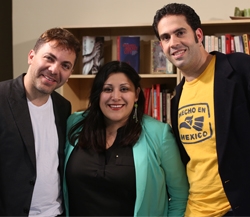 Los Angeles, CA, June 20, 2013 --(
PR.com
)-- Latino Pop-star Cristian Castro has joined director and producer Luis Iga alongside writer and producer Yelyna De Leon to bring to life the story of a domestic violence survivor whose name has been changed to protect her identity. She is a documented immigrant Latina woman, mother of three, first generation UCLA college graduate. "When Luis shared such inspirational story with me, I had to take action and be a part of this film," stated Cristian Castro. "One of the best ways to inspire change in someone is through a film. The figures of how many women, men and kids are affected by domestic violence are alarming. I could not believe some of the statistics; like the fact that domestic violence is the leading cause of injury to women—more than car accidents, muggings, and rapes combined," he added. Cristian Castro is one of the many talented individuals that will be attached to the making of this film, graciously agreeing to donate his expertise both as an actor and singer to this project.
"The reason that I came to USC to study film is to tell stories that bring greater awareness to current global social issues while simultaneously entertaining a broader audience. Hopefully, in doing so, I can motivate change within the masses," stated Latino director, producer and USC MFA Annenberg Fellow, Luis Iga. "Using narrative storytelling, I intend to put the viewers in the protagonist's shoes, exemplifying this epidemic as experienced directly from a survivor's perspective. I hope this dramatic thriller will inspire the audiences to take action and bring awareness to this massive pandemic issue. By illustrating this story to the victims, my team and I want to provide a real life example that in fact, there is a way out. We want to encourage them to get help, regain control of their lives and permanently reconstruct their family's future," concluded Luis Iga.
Latina writer/producer Yelyna De Leon met the domestic violence survivor while studying for her undergraduate degree at UCLA and was immediately impacted by her story. "As a survivor that broke the cycle of domestic violence in spite of all barriers, She is an inspiring example whose story needs to be shared with the world. Imagine being trapped with no way out. You are being beaten, feeling the pain of shattered bones, humiliated, broken, screaming for help but no one hears you...nor believes you. This is the true story of this domestic violence survivor," said Ms. De Leon, who is also a Dr. Rodolfo Montes MFA Scholar at USC's School of Cinematic Arts. "We have been working on the development of this script for over twelve months and we feel confident that this story will inspire change and awareness within the viewers," she added.
"We want to keep the public engaged and by our side in the process of bringing this story to life, so they can become part of this film. We hope the public will take a stand against domestic violence and join us in the making of this very important film," mentioned producer Miguel Ferrer.
The filmmakers plan to start principal photography in the Spring of 2014.
For further information about the film Deliverance, contact producer Miguel Ferrer via e-mail at pledge@deliverancethefilm.com, visit us directly at www.deliverancethefilm.com or visit our Facebook page at
www.facebook.com/DeliveranceTheFilm