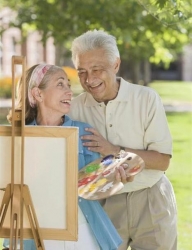 Atlanta, GA, June 20, 2013 --(
PR.com
)-- The National Senior League (NSL) announced today that on Tuesday, July 16, 2013, it will host a National Senior Wii Bowling Day to benefit research into Alzheimer's and dementia as well as related projects.
The NSL hopes to set a world record for the most senior Wii bowlers participating on a single day, asking Wii bowlers to roll a single game on July 16th. Each bowler will be asked to contribute $5 to be donated through NSL to research into devastating diseases, including Alzheimer's. In addition, the NSL will ask individuals and corporations to donate $1 for each recorded strike.
Dennis Berkholtz, started the NSL four years ago with the mission of providing seniors with a fun, competitive and social environment, and with the ultimate goal of raising money for Alzheimer's and dementia. Berkholtz's father suffered from dementia. "Using the NSL to raise funds for Alzheimer's/dementia is my way of honoring my father for raising a great family and giving me the opportunity to achieve success both in sports and business," said Berkholtz.
The NSL has established the NSL-ALZ Foundation to manage the fund-raising efforts. The Foundation will:
· Support Alzheimer's/dementia research;
· Donate to education programs focused on the importance of early detection;
· Develop a program to recognize and honor Alzheimer's/dementia caretakers with a vacation break from caretaker responsibilities.
The NSL-ALZ Foundation is working closely with the Atlanta-based NeuroScience Foundation, whose mission is to support research to accelerate treatments that significantly improve the lives of people suffering from devastating diseases, including Alzheimer's Disease and Stroke. "We are honored to be chosen as a recipient of the day's fundraising activities, and delighted to see the commitment of the National Senior League to support Alzheimer's research," said Susie Brown, Executive Director of the Neuroscience Foundation.
The National Senior Wii Bowling Day will target the 115,000 communities in the senior industry many of which have Wii bowling programs. Over the past three years of managing Wii bowling championships, the NSL has provided competition for Independent Senior Living Communities, CCRCs, Assisted Living Communities, Nursing Homes, Rehab Centers, Senior Centers and Affordable Housing Communities. More than 225 communities and over 2,000 Wii bowlers have played in the NSL (
www.nslgames.com
).
For more information and to support National Senior Wii Bowling Day, visit
http://www.nsl-alzheimers.org/#&panel1-1
Fore more information contact
Dennis Berkholtz, NSL President
435 714 9491,
dennis@nslgames.com