Jonathan and Andi Goldman, Sound Pioneers and Global Teachers, Present "Frequencies of Healing" Sound Workshop Nov. 2/3, 2013 in Tucson, Arizona, USA
Jonathan and Andi Goldman, offer a "Frequencies of Healing" Sound Workshop in Tucson, AZ Nov. 2 & 3, 2013. Jonathan, a Grammy nominee, award-winning author/music producer was named one of the world's 100 most influential spiritual teachers in 2011 (Watkins 100 List, UK). Andi is a holistic psychotherapist, award-winning author and founder of Tele-Counsel for shut-in clients. Jonathan also speaks at IONS Tucson Nov. 1, 6:30 pm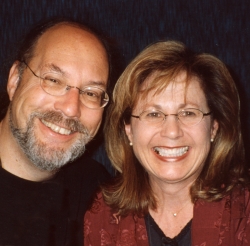 Tucson, AZ, August 14, 2013 --(
PR.com
)-- Sound pioneers and global teachers Jonathan and Andi Goldman present a "Frequencies of Healing" sound healing workshop in Tucson, AZ USA. Jonathan is a Grammy nominee, award-winning author/music producer and was named one of the 100 most influential spiritual teachers on the planet in 2011 (Watkins 100 List - UK). Andi is a holistic psychotherapist and award-winning author who was featured in the NY Times for her phone counseling service, Tele-Counsel that serves shut-in clients.
Workshop times and venue:
Sat., Nov. 2 - 9 am-5 pm with lunch break
Sun., Nov. 3, 1-4 pm
Tucson Osteopathic Conference Center
3182 N. Swan Road near Camp Lowell
Tucson, AZ 85712
During the workshop, attendees will work with their self-created sounds while toning, chanting, meditating and more. They will learn how sound can:
* energize and balance the brain
* increase the immune system
* tune the nervous system
* resonate DNA and cellular structure
* enhance relaxation and heighten consciousness
Attendees will co-create group exercises with the Goldmans for vocal and chakra sound healing, experience award-winning healing music, meditations and scientific/spiritual information.The event holds appeal for teens and up, medical and holistic practitioners, yoga, Pilates, dance enthusiasts, those in holistic studies, music teachers, performers and students.
A Healing Sounds Bookstore will open during the weekend event.
Workshop fee: $199. Credit cards via PayPal/cash/check
Contact: Joan Vann, producer, at chantingriver@gmail.com | 520.358.0575
Please do not call venues to register.
IONS Tucson. Jonathan lectures on "The Power and Principles of Sound Healing" at IONS Tucson Community, Fri., Nov. 1, 2013, 6:30-8:30 pm. Venue: Unity of Tucson, 3617 N. Camino Blanco, Tucson 85718 ($5 donation to IONS). The lecture is a pre-requisite for the workshop. A Healing Sounds Bookstore will be open.
More About Jonathan and Andi:
The Goldmans privately lectured in 2007 for the University of Arizona's Department of Integrative Medicine (founded by Dr. Andrew Weil). They will present at the Royal College of Music, London, in September 2013. (
www.healingsounds.com
).
Wayne Dyer cites Jonathan's discovery of the Moses Code frequencies as a potent tool for manifesting (PBS Show and his book "Wishes Fulfilled"). He praises Goldman's latest CD "The Divine Name: I AM":
"It's like being cradled in the arms of God." -Wayne Dyer.
Goldman's work and music are endorsed by Wayne Dyer, Gregg Braden, Lynn McTaggart, Deepak Chopra, Drunvelo Melkizedek, Barbara Marx Hubbard and other well-known spiritual teachers and authors. The Goldmans presented at the Uplift Festival in Australia on 12/21/2012 with Barbara Marx Hubbard, Bruce Lipton, Grandma Agnes, Deva Premal and Miten and many indigenous musicians and teachers. Jonathan Goldman, president of Spirit Music, founded World Sound Healing Day 11 years ago. It is a global sound event that continues to grow every year. He and Andi are co-directors of the Sound Healers Association. Andi Goldman is also director of the yearly Healing Sounds Intensives.
The Goldmans are available for interview. 303.443-.8181 | 800.246.9764.
For additional information please contact workshop publicist and producer Joan Vann: chantingriver@gmail.com | 520-358-0575.
Contact
Joan Vann PR
Joan Vann
520.358.0575
www.soundhealersassociation.org
Joan Vann is a sound healing facilitator.

Contact