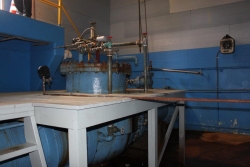 New York, NY, September 10, 2013 --(
PR.com
)-- Rentricity Inc., the in-pipe hydro energy recovery Company, executed a letter of agreement with the Bethlehem Authority in Pennsylvania to explore, finance and develop multiple small, in-pipe hydropower sites within the Authority's water system. The agreement follows similar agreements with the City of Albany, New York and North Summit Irrigation in Utah and underscores the predictability of revenue and investor value from low-impact, in-pipe hydropower.
The agreement provides Rentricity with an exclusive 5-year timeline to analyze, finance and develop up to three sites in Bethlehem water pipelines that provides drinking water to the City's population. "This is the right approach at the right time," says Steve Repasch, Executive Director, Bethlehem Authority. "The water department has been looking at this small hydro opportunity for a number of years and now with Rentricity's finance offer, can seek a revenue share partnership while reducing the carbon foot print of the City of Bethlehem," he added.
The project, set to start this fall, will explore the Pennsylvania Avenue and Howertown pressure regulator vaults and a site at the Penn Forest Reservoir. The three sites have the potential to generate over 200 kilowatts of clean energy collectively. "This is another opportunity to advance Pennsylvania's renewable energy portfolio," says Frank Bursic, Regional Director located in Pittsburgh. "This project represents Rentricity's first to finance in the state of Pennsylvania and a new energy services model for low impact hydro development," he added.
This project is announced on the heels of President Obama signing HR 267 into law which will greatly reduce the cost and time associated with permitting small hydro projects in the United States and will likely spark new job creation in this small, yet growing new energy sector. Frank Zammataro, CEO of Rentricity, stated that the Company has many projects in the pipeline in Pennsylvania and sees the state as primed for rapid growth in small hydro.
About Rentricity: Based in New York City, Rentricity Inc. is a renewable energy company that uses unique energy recovery configurations to transform untapped energy within various man-made water, wastewater, and irrigation and industrial infrastructure into clean electricity. The energy recovery systems convert excess pressure in water mains and conduits into clean, electric power. Since this electricity can be sold onto the grid, Rentricity provides its customers with an additional source of revenue and a way to offset rising electricity rates while supporting local renewable energy goals. (www.rentricity.com)
About Bethlehem: The City of Bethlehem's water service area includes all of the City of Bethlehem, the Borough of Fountain Hill, the Borough of Freemansburg and portions of Allen Township, Bethlehem Township, East Allen Township, Hanover Township - Lehigh County, Hanover Township - Northampton County, Lower Saucon Township, Salisbury Township, and Upper Saucon Township. The city's water comes entirely from surface sources and is stored in reservoirs in the Pocono Mountains. Water is treated at a state-of-the-art direct filtration plant built in 1994 and then is distributed through more than 500 miles of water lines. The system brings high-quality water to more than 100,000 customers with more than 34,000 water accounts (residential, industrial, commercial, institution, public, and resale).
(http://www.bethlehem-pa.gov/dept/water_sewer/index.htm)