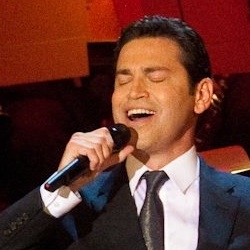 New York, NY, September 30, 2013 --(
PR.com
)-- Voted Best Male Classical Crossover Artist of 2011, Frangoulis is known for his unique ability to belt out everything from an operatic aria to a booming rock anthem, and is consistently ranked at the top of the genre alongside Andrea Bocelli and Josh Groban. Frangoulis, who speaks and sings in five languages, headlines concerts around the world performing with musical icons such as Placido Domingo, Lara Fabian, Sarah Brightman, and Justin Hayward. Fresh off a dazzling concert taped for public television with the unrivaled Boston Pops that has gripped millions of public television viewers across the nation, Frangoulis will perform songs composed by leading songwriters of our time — David Foster, Stephan Moccio, Steve Wood, and Robin Gibb to name a few. Porter Anderson of CNN.com raves, "You bask in the glistening dynamics and tonal control he brings to his vocals."
Frangoulis, born in Zimbabwe but raised in Greece, is known throughout the world for his deep commitment to humanitarian causes, especially those that pertain to children. He has freely given his time and talent to assist a multitude of charitable organizations over the course of his career; and in all three of his upcoming U.S. shows, Frangoulis will donate 40 percent of sponsorships and VIP ticket sales to charity.
In response to a recent "call to action" by businessman and philanthropist Michael Jaharis, Frangoulis and his team will donate to Apostoli, (which means "Mission") in Greece, a grassroots organization providing food, medicine and health care to an alarmingly increasing segment of the Greek population, hit hard by the economic crisis plaguing the country. In the U.S. his concerts will support two causes that he has been connected with for many years: Give US Your Poor, a national campaign to end homelessness (In 2007, Mario joined forces with other superstars like Bruce Springsteen and John Bon Jovi for a compilation album to raise funds for the organization), and the prestigious Horatio Alger Association of Distinguished Americans for whom Frangoulis is International Ambassador, and where a percentage of proceeds from album sales and the sale of his new DVD with the Boston Pops will go towards scholarships for high risk, high potential children in the U.S. and Canada.
Each performance in the upcoming series will feature an international repertoire, making these special concerts a true representation of the diverse world we live in, representing Frangoulis' commitment to supporting young, talented musicians and his deep held belief that "music and love are the only two unifiers of people."
Concert-goers will be taken on an emotional and passionate musical journey in English, Italian, Greek, French and Spanish. Frangoulis' demonstrates his vast musical range as he will sing everything from Empty Chairs at Empty Tables, a tribute to his career beginnings as Marius in Les Miserables, to his known favorites Vincero, Perdero (over 850,000 views on YouTube), and Nights in White Satin given to him by Justin Hayward (over 1,200,000 views on YouTube) to new, moving compositions such as Daybreak written for Frangoulis by the late Robin Gibb as part of his final and only orchestral work, The Titanic Requiem. He will also introduce audiences to new songs from, Beautiful Things only available through public television in the United States and Canada, an album which features duets with Vanessa Williams in a beautiful ballad dedicated to the Horatio Alger Association called A Hero Is Inside, and an ode to Frangoulis' muse, Maria Callas, simply named, Maria, sung with acclaimed young tenor Vittorio Grigolo.
Mario Frangoulis' fall concert dates are presented by KWL Enterprises & Lyric Muse Productions:
· November 8th: San Francisco, 8:00PM, The Nourse Auditorium (cityboxoffice.com)
· November 10th: Chicago, 7:30PM, The Harris Theater at Millennium Park (harristheaterchicago.org)
· November 16th: New York City, 8:00PM, The Rose Theatre at Jazz at Lincoln Center (jalc.org/events)
Mario Frangoulis serves as International Ambassador for the Horatio Alger Association of Distinguished Americans, underwriters of the public television program Mario Frangoulis Live With The Boston Pops. A portion of proceeds from the sale and pledging of the Beautiful Things CD and DVD go to the prestigious organization's scholarship fund for America's highest-risk, highest-potential young students.