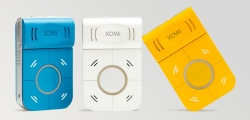 McLean, VA, October 22, 2013 --(
PR.com
)-- Newly launched startup XOWi Inc., a McLean, Virginia, Wearable Technology company that focuses on delivering voice products and solutions, today announced the launch of a 30-day Kickstarter campaign to raise funds for its first product, the XOWi™ Personal Voice Companion badge. A small wearable device that can be clipped on a collar or worn as a necklace, the XOWi™ badge is designed to enable users to comfortably engage in pure Voice interactions in hands-busy/eyes-busy situations.
The campaign can be followed at
http://www.xowi.me
"It's all about the User Interface," XOWi Co-Founder and CEO, Ahmed Bouzid, said. "A lot of attention and energy are being poured on smartwatches and Glasses, but neither takes us away from the visual-tactile centric interface that we have been using since the introduction of the touch smartphone UI about 6 years ago."
"The world around us is changing rapidly, yet again," Mr. Bouzid said. "We are currently witnessing a steady and sure transition from the Mobile world, where an intelligent device is collocated with a human being, and into the Ubiquitous technology world, where all kinds of intelligent devices and services exist independently of us and crowd our landscape at home, in the car, in the office, and beyond. In such a world," Bouzid added, "we will be constantly micro-interacting with this dotted intelligent landscape, and whipping out your smartphone, or wincing at tiny screens on smartwatches, and doing so repeatedly, is just not scalable. The smartphone as we know it will continue to play an important role in our lives, but in this new emerging world, we will also need to interact in bursts and quickly, and Voice, the interface that is the most natural and least demanding on humans, is going to play a huge role."
While the Kickstarter campaign is being launched today, development of the XOWi™ badge has been underway for several months, and a working prototype has already been built.
"Key to the success of XOWi™ is performance," Dr. Weiye Ma, Co-Founder and CTO of XOWi said. "We have established that the form factor of a wearable badge or necklace is the way to go, and we have already built several modules that enable our software to interact with services such as Twitter, Facebook, Traffic, Weather, eBay, and more. What we need to ensure beyond that is the speech recognition accuracy and high audibility. And we are on track towards delivering a product that users will fall in love with and embrace as a must-have device in their lives."
The XOWi™ badge pairs with the user's smart device and comes with a companion App that runs on all of the major mobile platforms: Android, iOS, Microsoft and Blackberry. Crucial also is the availability of an open API that will enable developers to add functionality and content to XOWi™. XOWi™ will also be pairable with any Voice Assistant already in the market.
The Kickstarter campaign is launching today and will run for 30 consecutive days, with the goal of raising $100,000. Pledgers will be able to pledge $149 or more for a XOWi™, with special packages for developers and supporters who want to work closely with the XOWi™ Product team. The XOWi team plans to begin delivery of the first XOWi™ badges in March 2014.
"The XOWi concept is a groundbreaking way to get the benefits of computing while keeping the distractions of operating a user interface to an absolute minimum. This device will be an enormously valuable addition to all of our daily lives." - Dr. Debbie Dahl, Principal, Conversational Technologies - http://www.conversational-technologies.com/
"We are excited by this promising team's effort to build a device and platform that will enable users to interact effortlessly with digital services and the Internet of Things" - Inside Activity Tracking - http://www.insideactivitytracking.com/feature-zowi-and-wearable-voice/
"Wearable computing is emerging as a significant new trend in our industry, and XOWi is superbly positioned to take full advantage of the growing enthusiasm in this area." - K. W. 'Bill' Scholz, President, Applied Voice Input Output Society (AVIOS)
About XOWi Inc.
XOWi Inc. was founded by Ahmed Bouzid and Weiye Ma, two speech technology innovators with a life long passion for bringing voice solutions and products to the mainstream. The two became convinced in the past few months that the time for Wearable Voice had come. The XOWi Personal Voice Companion badge is their first product towards fulfilling that mission. The co-founders are the authors of a new book: "Don't Make Me Tap! A Common Sense Approach to Voice Usability" – available on Amazon at: http://www.amazon.com/Dont-Make-Me-Tap-Usability/dp/1492196517
Follow XOWi on Twitter via @xowime. For more information, visit http://www.xowi.me
XOWi™ is a trademark of XOWi Inc. All other trademarks, registered trademarks and products mentioned herein belong to their respective owners.