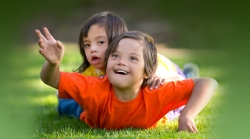 San Diego, CA, October 11, 2013 --(
PR.com
)--
downsyndromenews.blogspot.com/
SanDiegoDownSyndrome.org announces a free Christmas Event During October Down Syndrome Awareness Month.
SanDiegoDownSyndrome.org invites everyone, especially families of children with special needs, to celebrate the Christmas Spirit with them through their organized event entitled "Special Treasures" on December 23rd, 5pm, to be held at Funbelievable located in Lakeside, San Diego.
Special Treasures is the special Christmas event organized by SanDiegoDownSyndrome.org for the purpose of giving joy to families which have kids with special needs. This is completely free and interested participants will only have to register at the website, www.sandiegodownsyndrome.org, for them to become a part of this joyous event that aims to bring not just fun and entertainment but also a educational benefit to those families that have children with special needs.
The said event will feature a student ensemble that will perform the all-time holiday favorites and will be led by Karla Holland-Moritz, the San Diego Symphony cellist. Special Treasures Christmas Event is expected to be made more fun and entertaining through the different activities that will be held on this special day, including Santa's surprise visit, free use of the Jungle Gym, and a Junior Civic Ballerina who will perform. There will also be fire and CHP vehicles as well as Santa's Helpers in costume that are bound to bring more life to the event as they share the best of the holiday spirit. There will also be a hayride on location and just like any other events, Special Treasures Christmas Event will not be complete without plenty of food. Free pizza, salad and punch will be given to all attendees as well as yummy holiday desserts. There will also be free gifts and prizes to be given away during the special contests that will be held.
SanDiegoDownSyndrome.org understands how challenging it can be to have a child with a special needs. This is the reason why they strive to come up with events like Special Treasures Christmas Event in order to make not just the special children but also their families happy and make them forget if even for just a moment their significant challenges.
SanDiegoDownSyndrome.org is a unique website that has been specifically created in order to address the needs of children with special needs as well as their families. They organize different events throughout the year for the purpose of helping these people and bringing them the kind of joy, fun, care, love, and hope that they deserve.
For those parents and families of children with special needs, you are invited to join this special event. Just visit
www.sandiegodownsyndrome.org
to register and have a merry Christmas with other families!
Contact: John Leslie, President
Company: SanDiegoDownSyndrome.org
Address: Lakeside, San Diego, CA
Telephone Number: 619-708-5636
Email: info@sandiegodownsyndrome.org