Rentricity Partners with Cornell Pump Company to Supply NSF Certified Turbines for In-Pipe Hydro Energy Recovery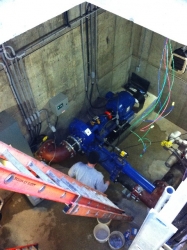 New York, NY, November 12, 2013 --(
PR.com
)-- Rentricity Inc., the in-pipe hydro energy recovery company, executed an exclusive agreement with the Cornell Pump Company of Clackamas, Oregon to develop a line of NSF 61 certified turbines; better known as pumps operating as turbines (PATs). The agreement will support the growing requirement across the United States for NSF 61 products used by water operators, which is being adopted by many state agencies as a water quality standard for materials used within drinking and potable water systems.
The agreement provides Rentricity with an exclusive 10-year right to solely certify and distribute Cornell Pumps with NSF certification. It will also provide Rentricity with a market lead, as more state governments require certified technology to safeguard water quality while facilitating system efficiency. "Rentricity has now taken a long standing relationship to the next level," said Cary Hillebrand, Project Manager at Rentricity. "We look forward to supporting safe water standards while developing in-pipe hydro, clean energy systems for water operators," he added.
This exclusive deal positions Rentricity as the primary provider of NSF certified in-pipe turbine equipment in the United States. "Cornell Pump prides itself on being entrepreneurial with its product lines," said Marcus Davi, Cornell Pump VP of Sales. "It is relationships with application solution providers like Rentricity that will support the evolution of our products to serve emerging market opportunities," Davi added.
Rentricity will supply the PATs to future projects requiring NSF certification for drinking water and other water operators, such as food processing, which artificially reduce pressure with valves and can benefit from the standardized energy recovery equipment. "This project adds yet another differentiator to Rentricity's solutions," said Frank Zammataro, Co-Founder and CEO of Rentricity. The Company will continue to develop key partnerships to tap into the over 400 billion gallons of water that flows through pipes every day in the United States. "In-pipe hydro is the forgotten renewable technology that is of growing interest and being brought into the mix to help the U.S continue to become energy efficient and independent," he added.
Rentricity is currently developing over 9 new projects across drinking water, food processing water, low impact dams, and irrigation systems.
About Rentricity: Based in New York City, Rentricity Inc. is a renewable energy company that uses unique energy recovery configurations to transform untapped energy within various man-made water, wastewater, irrigation and industrial infrastructure into clean electricity. The energy recovery systems convert excess pressure in water mains and conduits into clean, electric power. Since this electricity can be sold onto the grid, Rentricity provides its customers with an additional source of revenue and a way to offset rising electricity rates while supporting local renewable energy goals. (www.rentricity.com)
About Cornell Pump: Cornell Pump Company, is a Clackamas, Oregon based company that provides premium quality, efficient centrifugal pumps for industrial, agricultural, mining and municipal applications. Since 1946, Cornell Pump has engineered products to be rugged, durable, and dependable—efficient by design. Cornell pumps are found in products and applications around the world. Cornell Pump is a subsidiary of Roper Industries, a diversified growth company that is a constituent of the S&P 500, Fortune 1000, and the Russell 1000 indices. For more information on Cornell, please call (503) 653-0330, or visit www.cornellpump.com
Contact
Rentricity Inc.
Frank Zammataro
732-319-4501
www.rentricity.com

Contact