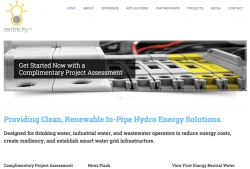 New York, NY, December 03, 2013 --(
PR.com
)-- Rentricity Inc., the in-pipe hydro energy recovery company, is inviting the processed water community to explore its new website and improved user interface. The new website features a clean, modern design with straightforward navigation, allowing its visitors to gain access to company information with ease. Key information on Rentricity, product and service offerings, and a repository of material on existing and future projects are available on the website.
Rentricity.com engages water industry operators and service professionals involved with drinking water and industrial water operations who are seeking to create energy savings by using their own flow of water. Site visitors are encouraged to discover their facility's energy potential while navigating through the different products, engineering services, and finance options. "The time could not be better for Rentricity to launch it's new site outlining our expanded services and offerings to additional water operators like food processors and pharmaceutical plant operators," said Frank Zammataro CEO and Founder. "Rentricity has continued to organically grow its business and is has created unique supply chain offerings as well as providing the most cost effective form of in-pipe hydro energy recovery in the world," he added.
New website features include:
• A new project assessment tool, allowing interested parties to submit flow and pressure data for a complementary assessment of a facility's energy recovery potential;
• Various case studies and descriptions of new projects under development; and
• Expanded media section including a video library;
The integration of social media, including Twitter, Facebook, and LinkedIn, adds an entirely new dimension to Rentricity's website. These connections bring forward a new platform for communication, as well as give potential customers real-time insight into the Company's work. "With this new site, customers and partners will have better visibility into the innovative energy recovery solutions developed by Rentricity," said Micah Kotch, Director of NYC ACRE. "As a New York City company with global reach, we're proud of the Rentricity team's ability to tell its story of building a smart and sustainable water grid in a more accessible way," he added.
About Rentricity Inc.: Based in New York City, Rentricity Inc. is a renewable energy company that uses unique energy recovery configurations to transform untapped energy within various man-made water, wastewater and industrial infrastructure into electricity. The energy recovery systems convert excess pressure in water mains and conduits into clean, electric power. Since this electricity can be sold onto the grid, Rentricity provides its customers with an additional source of revenue and a way to offset rising electricity rates while supporting local renewable energy goals. Rentricity is a graduate of NYU-Poly's clean energy incubator NYC ACRE, the New York City Accelerator for a Clean and Resilient Economy. (www.rentricity.com)
About NYC ACRE: The New York City Accelerator for a Clean and Resilient Economy (NYC ACRE) helps clean technology and renewable energy companies in New York City grow, advancing the city as a role model for a low-carbon future while also creating jobs. NYC ACRE is dedicated to growing an ecosystem of entrepreneurs, international companies, and innovative local businesses that provide solutions to climate and energy issues in NYC. (www.nycacre.com)