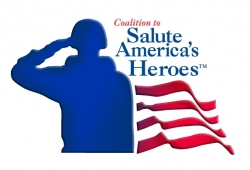 Leesburg, VA, December 05, 2013 --(
PR.com
)-- For the more than 50,000 American soldiers wounded during the wars in Iraq and Afghanistan, the emotional and relational strains they encounter upon their return home present another burdensome weight that can make already-difficult situations even worse.
The stresses that often accompany severe injuries – including loss of limbs, head wounds, PTSD and more – frequently require the veteran's spouse to forsake his or her own career to become a full-time care-giver. The subsequent loss of income often forces families to sell homes, move in with parents or, in the worst of circumstances, become homeless. Add children to the mix, and the situation can quickly spiral downward.
Recognizing this unfortunate, yet all-to-familiar reality, the
Coalition to Salute America's Heroes
(Coalition) organized a Veterans Day couples cruise for 10 combat-wounded veterans and their spouses. The all-expenses-paid luxury vacation on Celebrity Cruises was held from November 16-23.
Each of the veterans is a member of the United States Special Forces hand-selected by liaisons at command posts across the country. Each was chosen based on his or her physical challenges – including severe burns, amputations or shrapnel in their bodies – and in recognition of their status as heroes living under uniquely stressful conditions. All but one of the soldiers is still on active duty.
The participants were joined by professional marriage counselors from the PAIRS Foundation, which organized daily sessions that helped the couples learn how to communicate better, deal with personal issues and address their acute physical and emotional challenges in a safe environment.
"Our goal for this cruise was to help several deserving couples strengthen their marriages after being separated repeatedly over years of deployments," said David Walker, President & CEO of the Coalition to Salute America's Heroes, a leading not-for-profit organization dedicated to rebuilding the lives of severely wounded veterans of the War on Terror. "The project was created after a series of discussions between military leaders and the Coalition on how we could provide the best possible support to these heroic men and women. With the divorce rate among Special Ops members soaring as high as 80 percent, we knew this was an area that deserved our attention."
Many of the participating couples reported that, for the first time, they learned how to express their emotions to their spouses in a constructive manner. The cruise was also the first opportunity most had to simply enjoy each other without distractions from children, work and medical visits.
The group was also joined by Lee Ellis, a combat pilot who served in Vietnam and the author of Leading with Honor: Leadership Lessons From the Hanoi Hilton. The book is based on Ellis' experience as a prisoner of war over five years in North Vietnam. Ellis currently works as a leadership consultant for Fortune 500 companies.
In addition to the couples therapy sessions and ample free time for rest and relaxation, the cruise included two formal dinner events. This enabled the veterans to wear their dress whites, which attracted a great deal of positive attention and encouragement from appreciative fellow passengers aboard the ship.
The couples cruise was organized by the Coalition as a pilot project that will be measured and studied to gauge its lasting impact on the participants. Similar programs – at sea and on land – will be rolled out in the future based on the results of the pilot.
"The cruise was an excellent first step, and the feedback we received from the participants was almost uniformly positive," said Walker. "Everyone appreciated the opportunity to reconnect with their spouse in a relaxed setting, and virtually all reported that their marriages were improved – even perhaps saved – through the experience."
The Coalition to Salute America's Heroes, based in Leesburg, VA, has provided an invaluable lifeline to thousands of America's wounded veterans since its establishment in 2004. The Coalition is distinguished from other veteran-focused organizations by its direct financial assistance to America's wounded heroes. Its Emergency Financial Aid program has stopped foreclosure proceedings on veterans' homes and kept their vehicles from being repossessed. The organization regularly provides gift checks to cover meals, medical and utility bills, clothing, car repairs and even baby diapers.
For more information, and to learn how you can support the Coalition's mission, visit www.saluteheroes.org.