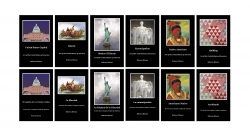 Lake Worth, FL, January 10, 2014 --(
PR.com
)-- Art of the United States of America, a series of twelve short social studies books in English and Spanish, will be released April 1, 2014. This series addresses reading achievement gaps between English Language Learners (ELLs) and non-ELL students. Common Core Question Assessments for each title deepen reading comprehension of ELLs. United States Capitol, Statue of Liberty, Liberty, Emancipation, Native American, Quilting, El Capitolio de Los Estados Unidos, La Estatua de la Libertad, La libertad, La emancipación, Nativo Americano, and Acolchado interpret authentic art on each page to narrate early periods of American history.
Over ten percent of public school students in the United States are designated as English Language Learners. The reading achievement gaps between ELL and non-ELL students in the 2011 National Assessment of Educational Progress were 36 points at the 4th grade level and 44 points at the 8th grade level. The new series implements best practices for increasing reading comprehension of ELLs to bridge these learning gaps.
"The series starts from the ground up as it builds background knowledge of our English Language Learners," stated Mike Riley, Principal of South Grade Elementary in Palm Beach County, Florida. "When students see an amazing work of art on each page, it supports engagement and adds meaning to their reading of American history. The Common Core Question Assessments challenge students to delve deeper in their comprehension of the text."
"A book with 24 pages is less intimidating to ELL students," stated ELL & Dual Language Reading Coach Angela Gonzalez of the School District of Palm Beach County. "These titles are useful for close reading, read alouds, shared reading, guided reading, and independent reading."
"The new Common Core Standards require deeper understanding of non-fiction with a Social Studies focus," stated Dr. Cathy L. Pressey of the School District of Palm Beach County. "These books and Common Core Question Assessments perfectly align with the new Reading Standards of Informational Text and Literacy in History/Social Studies. They are an amazing resource for all students as they meet the challenges of the new standards."
"Immigrants and their progeny face a loss of cultural identity. The Art of the United States of America series honors the rich cultural heritage of our nation," stated Aileen Josephs, Honorary Consul of Guatemala. "Our founding fathers acquired great art which teaches English Language Learners to take pride in their new country as it aids their English acquisition."
"We will use the Art of the United States of America series to integrate language arts into the visual arts curriculum," stated Art Teacher Janet Stanton of the School District of Palm Beach County. "The art of this series is personal. It illustrates what Americans love most. What we hold closest to our hearts. It reveals the soul of our nation."
"Hinson's multicultural art books make our students proud of who they are and where they came from," stated America Debeck of the School District of Palm Beach County. "We look forward to using these beautiful new titles in our dual language program."
"Our students scour the shelves for the books with the black spines from Rebecca Hinson Publishing," stated Media Specialist Sarah McKnight of the School District of Palm Beach County. "Our statistics show that their titles have high circulation rates which continue to rise. The Art of the United States of America series will be a welcome addition to our collection."
Emancipation and La emancipación tell the story of slavery, secession, and the Civil War. Liberty and La libertad explain how the thirteen colonies declared their independence from Great Britain and fought to defend the United States of America. Native American and Nativo Americano show beautiful woven, beaded, painted, and carved works used in daily life. Quilting and Acolchado interpret the role of quilting in American life. Statue of Liberty and La Estatua de la Libertad illustrate the construction and meaning of Lady Liberty. United States Capitol and El Capitolio de Los Estados Unidos narrate history as illustrated by the art and architecture of the Capitol.
Offered in hardcovers, and softcover six packs in English or Spanish, the fully leveled reader series is available from Rebecca Hinson Publishing, which also offers Common Core Question Assessments, school licensing for digital content, and professional development. Follett Library Resources and Brodart Books & Library Services will distribute the titles for grades 3-8 under the categories of Common Core, Social Studies, Dual Language, Art, and Multicultural.
Rebecca Hinson is the author of 36 multicultural art books for children. A graduate of Duke University and the Académie de la Grande Chaumière, she leads workshops on teaching the Common Core through multicultural art. Spanish editions were written by Angela M. Gonzalez, Luis Cañedo, and Elena Cañedo, graduates of Universidad de Salamanca, University of California, and Universidad Pedagógica Nacional. Editor Dr. Richard Lederer is the author of 40 books about language, history, and humor. He is the founding co-host of A Way With Words on Public Radio. Editor John Robuck is a graduate of Georgia College & State University and University of Georgia. History Consultant Roy Bartolomei received his M.A. from Harvard University.
The mission of Rebecca Hinson Publishing is to jump start English Language Learners out of the silent phase by tapping into their prior knowledge, instill pride in students' identities by addressing their cultural disconnects, and increase ELL academic performance and graduation rates.
Contact: Rebecca Hinson
Art reveals the soul of a nation™
Rebecca Hinson Publishing
818 North Palmway
Lake Worth, FL 33460
rebeccahinson@rebeccahinsonpublishing.com
www.rebeccahinsonpublishing.com
T 561 267-5756
F 561 327-7757