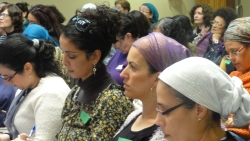 Tel Aviv, Israel, February 04, 2014 --(
PR.com
)-- Hundreds attend School of Jewish Psychology's conference on "Faith and Free Will."
January 27th, in Tel Aviv nearly 300 men and women participated in a day-long conference held by the Torat Hanefesh School of Jewish Psychology. The conference's topic, "Faith and Free Will," drew many to a series of lectures on the topic delivered by teachers from the School of Jewish Psychology.
First to address conference-goers was Rabbi Itiel Giladi whose talk, titled "Everything is in that hands of Heaven except for…," centered on rebounding after periods of melancholia and depression. Next, Rabbi Nir Mennusi focused on the very relevant and complex issue of gender and sexual identity and how they relate to free will.
Two shorter sessions addressed men and women separately, followed by a joint lecture given by Rabbi Yitzchak Shapira on a faith-based approach to overcoming addictions. After Rabbi Shapira's lecture, graduates of Torat Hanefesh's fourth class were conferred their degrees and diplomas. The conference was capped with a two hour-long keynote address by the School of Jewish Psychology's dean, Harav Yitzchak Ginsburgh.
Torat Hanefesh's philosophy to psychological health is expressed in one of Harav Ginsburgh's basic writings on Jewish psychology: "Regardless of our present state, there remains deep within us an untouched and unaffected point of wholeness and goodness. If we can gradually identify with this inner point of health, we can rehabilitate ourselves in its image." The Torat Hanefesh School of Jewish Psychology offers professional and rigorous instruction in Jewish Psychology, based on the teachings of the Ba'al Shem Tov and other Chassidic masters. The school is currently in its seventh year and offers programs in Jerusalem, Tel Aviv, Rechovot, and Haifa. The school's English-speakers' program is taught in Jerusalem, and is available for online and live distance-learners as well. http://en.torathanefesh.org